Have you visited our store? Click here.
---
This show was in Arlington and due to the distance and gas prices, I decided to attend Saturday only. It's pretty common for me to want to attend just a single day at these smaller shows. I got there a little later than I'd have liked but put in a solid 5 hours. In that time, I found some really interesting pieces.
---
Pickup Highlights:
Among the small pile of raw cards I cherry picked, the following three are the highlights. I've always like the 1994 Ultra On-Base Leaders set. The colors and textured foil make these really pretty cards. I can also remember opening many packs of 1994 Ultra that year and not pulling a single one of these. Granted, I only opened a few jumbo packs, which is where these were inserted. The 1998 Team Pinnacle Cal Ripken Jr. was never officially released and is part of the stuff that made its way to market after the Pinnacle bankruptcy. There are two versions of the 1988 Gators Emmitt Smith card – one with the Burger King logo in the top right and one without. This is the more common latter version. Regardless, it's still a nice add and I'm happy to have it.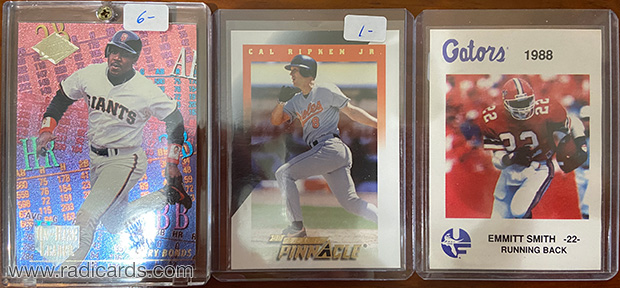 To see the current eBay auctions for the 1988 Gators Emmitt Smith, click here.
A Gift from a Friend:
As I was digging around, my buddy, Stephen, walked up to me and handed me this Todd Helton card. He's such a good dude. 2002 Finest X-Fractors are quite beautiful and I'm happy to add this to the collection. Thanks, Stephen!
To see what's currently on eBay from 2002 Finest, click here.
---
In Conclusion:
The Arlington Expo Center is an excellent venue for the smaller installments of the Dallas Card Show. I think it's just a great hall all-around. It's a bit far for me but I'm happy to drive it at least one of the days. The parking fee is kind of high at $10 but it's still worth it if you're in the area.