Have you visited our store? Click here.
The day began with me heading over to a familiar booth to return two cards that unintentionally ended up in my pile from a purchase from the day prior. The gentlemen was accepting and just said if I wanted, I could swap them out for two other cards. In response, I went through his boxes a second time and pulled out another stack of cards. He tallied me up and shaved off a few bucks to cover the swap outs. I walked away happy as always.
Thankfully, as a VIP member, I was given an over-the-shoulder bag provided by eBay. This replaced the bag that had the blown out strap from the day before, which made as an incredibly practical replacement. I used this bag for the remainder of the show.
As I got to the top of isle 1700, I saw off to the side of my eye a 1964 Venezuelan Lou Piniella RC in a PSA case. I didn't think much of it immediately but the thought would gradually take shape and turn into interest as I walked down isle 1800. As I made my rounds through 1800, I circled around back to the top of 1700 where I saw the Piniella card. I looked around and couldn't find it so I asked around. After asking two dealers if they'd had the 1964 Venezuelan Piniella, I realized how odd my request was. After all, how many guys ask for this card at The National? I knew I was in the right place but because I couldn't find the card, I was beginning to think I had manifested a false memory.
It wasn't long after that I had found the card in a dealer showcase not too far from where I was making these inquiries. I asked the dealer if I could see the card. As he retrieved the card from the showcase, I noticed there were other 1964 Venezuelan's underneath it so I asked if I could see the stack. In the stack were two more cards of serious interest: RCs of Tony LaRussa and Tommy John. I felt like I had just found some really hidden gems; it was an excellent moment. I examined each of the three cards: Piniella, LaRussa, and John and determined I'd be happiest with the John as it possessed the best eye appeal. The centering and overall condition was very clean in comparison to those of the other two cards. The seller asked $100 for the card, I countered with $50 and we settled on $60. Here it is: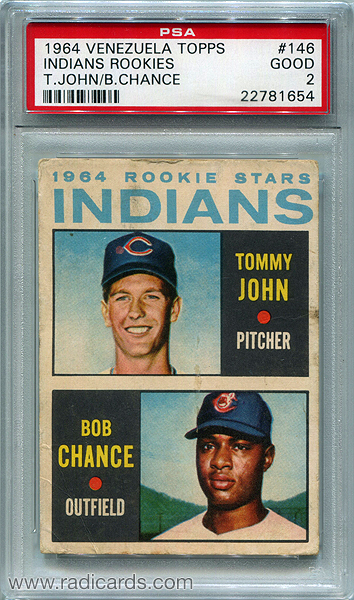 As I continued through the show, I found a table completely covered with Graded Card Boxes with slabs ranging from the 1970s to present, all 25% off. I dug around the earlier years and pulled out a PSA9 example of the 1975 Topps Doug DeCinces RC, which I thought was a nice $10 add. I would revisit this series of boxes later.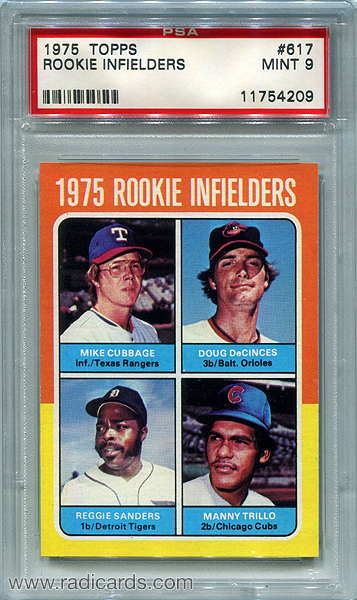 I continued my trek and found a booth that had a PSA example of the 1989 Topps Dale Murphy card. This wasn't just any slab, however, this one had the word, "Sample" on the flip. I asked to see the card so after the seller got it out and handed it to me, I inspect it and noticed the Dale Murphy card was just the standard base card from 1989 Topps. I asked the seller what was up with this slab and why it said "Sample" on the flip. He indicated it was a prototype from PSA to showcase what the product would look like before mass production began. I was like, "Wait, are you saying this the the first thing PSA slabbed before they began grading cards for the public?" He said it would appear that way. I asked him how he got the card. He said it was in a collection he bought. I then asked how much he wanted for it. He gave me a firm price and I eagerly paid. While I'm still confirming this cards history, this could be the very first thing PSA ever slabbed before any card was officially submitted by any customer.
As always, I had an excellent time at the show. To those of you who found me and said hello, thank you! I appreciate you.