Have you visited our store? Click here.
The National Sports Collectors Convention a.k.a The National (singular not plural) is the largest and most well attended annual sports collectors convention that exists today. If you can swing if financially, it's a Must Attend kind of event for the sports card collector. This legendary show to end all shows started in 1980 largely due to the efforts of the late Mr. Mike Berkus. Back then it was held in a Marriott hotel ballroom near LAX (Los Angeles Airport). It's grown into massive popularity and is now held in some of the country's most notable convention centers both in reputation and size.
For those considering an appearance at The National, there are some things to consider. This article is meant to educate and inform potential first timers and seasoned attendees alike so they can best or better prepare to enjoy this fine event. Here's a helpful Q&A to get you ready to have one of the most entertaining days (or weeks depending on how long you decide to stay) of your entire year. Let's dig in.
Table of Contents:
---
1. How much money is enough to cover the trip?
There are two costs you need to consider: Required costs and Spending costs. The former is for travel and lodging while the latter is for spending while at the show.
1.1. Required Costs: The full 5-day trip, which includes a VIP Pass, plane ticket, and hotel reservation will run on average between $1100-1600. Aside from the VIP Pass price, travel and lodging expenses depend on when they're secured. The earlier, the better. It's generally accepted that the longer you wait, the more costly these expenses become. Also, if you wanna book hotel reservations close to the event, get on it as soon as they become available because they sell out quickly. Finally, rooming with a friend is a great way to cut the hotel bill in half.
1.2. Spending Costs: The amount of spending money you want to bring is entirely up to you and your level of purchasing power. A good baseline for spending cash is at least $1500. If you don't wanna dip into your spending funds for food and miscellaneous expenses should they exist, bring another $200. If you're a big spender with deep pockets, by all means, bring more.
2. What airport should I fly into?
The answer to this question requires an identification of the following:
What airlines fly into what airports?
What, if any, rail lines or other modes of transportation exist that can take you from the airport to your hotel?
3. What are the directions to National venues by city?
3.1. Atlantic City
Atlantic City Convention Center
1 Convention Boulevard
Atlantic City, NJ 08401
Atlantic City comes with negative reviews. It's my understanding that the only reason why The National is ever held here is because the venue is provided at no charge.
If you look around online, you'll find countless complaints about the AC venue. However, as long as the show attracts attendees, it's likely to continue being used. Here are some reasons why show attendees scrutinize the AC venue and often don't return after one go, or just skip The National all together when it's hosted here:
WiFi only available with $80 access plan. From what I've heard, this is a per-day fee. However, some attendees found WiFi access, albeit spotty, with Airplane Mode enabled. The lack of WiFi access is a huge drawback for attendees as checking comps and making phone calls are both very important.
Convention food is costly and has been said to run out.
No seating in the convention hall
Convention Trade Night comes with limited seating and no tables so you have to sit and spread your cards out on dirty carpet
Proximity parking is costly and limited
AC is dangerous, dirty, and poorly managed
Inconvenient logistics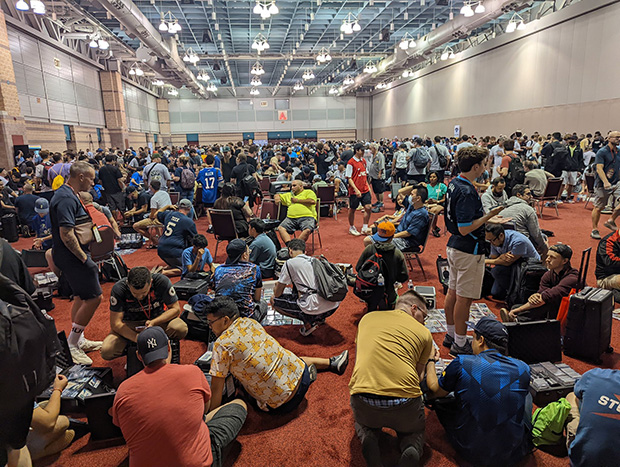 Logistics are the biggest issue with the AC venue. The easiest way is to fly into Atlantic City Intl. (ACI) Airport and find transportation from ACI to the Convention Center, which is about 13 miles away. However, only two airlines fly into ACI. More airlines fly into Philadelphia Intl. (PHL) but it's much further away at 66-78 miles depending on route. See chart below for a list of which airlines fly into which airports. These options may change over time.
| Airline | Atlantic City Intl. | Philadelphia Intl. |
| --- | --- | --- |
| American | x | x |
| Spirit | x | x |
| Alaska | | x |
| Delta | | x |
| Frontier | | x |
| Southwest | | x |
| United | | x |
Atlantic City: Which airlines fly into which airports
No matter which airport you fly into, you'll need to arrange transportation from the airport to the Convention Center. Many airports offer shuttle services. See if yours does as it will save you lots of money and time. Otherwise, arrangements will need to be made with a Taxi, Uber, or Rental. All of which are costly and will need to be factored into your travel budget.
---
3.2. Chicago
Donald E. Stephens Convention Center
5555 N River Rd
Rosemont, IL 60018
The Chicago venue is a great option for The National. It's conveniently located near hotels and restaurants and Kroger is a quick trip out for those who want to grab food for the week. It's also very easy to get to from airports: O'Hare (ORD) and Midway (MDW). Which you fly into depends on which airline you use. See chart below for a list of which airlines fly into which airports. These options may change over time.
| Airline | Midway | O'Hare |
| --- | --- | --- |
| Delta | x | x |
| Frontier | x | x |
| Southwest | x | x |
| Alaska | | x |
| American | | x |
| Spirit | | x |
| United | | x |
Chicago: Which airlines fly into which airports
Here's how to get to the Convention Center from Midway:
Take the Orange Line to Clark/Lake
Go downstairs
Take the Blue Line (O'Hare) to Rosemont
When you exit the railway, take a left on N River Rd, walk for about a quarter mile and the Convention Center will be on your left.
---
3.3. Cleveland
International Exposition Center
1 I-X Center Dr
Cleveland, OH 44135
For Cleveland, the Airport is conveniently located near the Airport Sheraton Hotel, which is just a shuttle ride away. You have other hotel options but this description is specific to that hotel. From the Airport Sheraton Hotel, a shuttle travels to and from the I-X Center. Shuttle pickups generally start at 930a, which means unless you have an alternative mode of transportation, accepting early morning convention meeting invitations isn't realistic. The biggest drawback to the I-X Center is it's remote location; it's located away from hotels and dining options, which limits the ability to plan early arrivals and late departures.
---
4. Where should I stay while I'm in the city that's hosting The National?
The obvious and immediate answer is this: as close to the convention hall as possible. Aim to cut back as much idle time as possible during your trip. The website for The National has info on nearby hotels with competitive rates. Alternatively, some attendees use Airbnb, which can be a more affordable lodging option. Be aware that alternative lodging options may be far from convention halls, which will require you to factor in transportation services. Keep this in mind.
5. When should I book my hotel room?
Rooms typically become available for reservation through The National website sometime between January and March. This is when you should book your room. Spots fill up quickly with full reservation capacity often achieved within weeks after launch date. I highly recommend reserving a room as soon as you can and with a hotel as close to the venue as possible. If you miss this critical window, there are other options but at the expense of your time since alternatives aren't likely to be located near the convention hall. So book immediately when rooms become available. I'm giving you gold here. Time is better spent at the show and with friends.
To book your hotel, click here.
It's important here to note that there are non-affiliated hotels in and around the Convention Center area. Prices vary but may be better options depending on your lodging needs. If you miss out on event-affiliated hotel promotions, don't worry; there are always other options. Whatever you decide, it's strongly recommended to secure your hotel reservation sooner than later.
6. What are my ticket options?
A few different types of tickets are available to serve the needs of the various types of attendees, which generally become available in March.
Single day passes are available for those who want a less than 5-day experience, and VIP passes are available for those who want the full 5-day experience. VIP passes come in a variety of tiers, each with different accommodations and prices. VIP pass holders are allowed access to the pre-show Sneak Peak night, which is a nice perk because it allows pass holders to enter the show floor the day before the convention hall opens to all other pass holders. This is an excellent opportunity to nab early deals and meet dealers. I always get the basic VIP pass.
In terms of urgency, this is lower priority but all levels of VIP tickets are generally the first to sell out. However, 5-Day Early Entry Passes and General Admission Tickets appear to remain available throughout. If you wanna grab the VIP, get it as soon as you can.
To purchase your ticket, click here.
7. What should I bring?
The answer to this question depends on how you operate as a collector. The following are some recommendations.
7.1. Essentials
7.1.1. Backpack: Bring a backpack to carry with you while you're at the show. Avoid anything with handles that would require you to drag or carry around. The backpack you should consider bringing is of standard size, just something you can put over your shoulders for easy access when you need to store purchases. I bring a somewhat small but ideally sized backpack that fits what I need to have. Whatever you decide to carry in your backpack, be sure to include some protein-rich snacks. More on this in section 8.2.
7.1.2. Comfortable Pair of Shoes: This is mission-critical. Bring comfortable shoes. Avoid sandals at all costs. I wore sandals at the 2012 National (my rookie year) and by the end of the week I had more blisters on my feet than I care to remember. Upon returning home, it took several days for my feet to return to normal. So again, avoid sandals. You'll be doing a lot of walking and will be much happier wearing a comfortable pair of shoes.
7.1.3. A Friend: I try to bring a friend whenever possible both for security and because it makes the entire trip more enjoyable. If friends aren't available, invite a family member, or partner. Company helps reduce travel stress. It also helps cut down on lodging fees since costs are often split down the middle.
7.2. Optional But Handy
7.2.1. Checklist: If you collect a certain player or set, consider bringing a checklist. While some collectors prefer the ol' pencil and pad, I've been storing my checklists in Google Drive for years. This has been efficient because I can access my checklist and make changes in real time right from my smartphone as long as I have a WiFi connection, which tends to exist (albeit sometimes spotty) in the show hall. It also keeps my hands free and extra stuff out of my backpack.
For instructions on How to Convert an Excel File into a Google Sheet, click here.
7.2.2. Card Show Binder or Single Row Box(es): From 1995-2018, I brought a 1-inch binder filled with empty used 9-pocket pages to every show I attended for quick storage. This saved me tons of space and it's easy to carry around. In 2018, I retired the Card Show Binder and replaced it with a couple single row boxes. With the exception of some, most cards I buy at shows are already penny sleeved and all get stored in the single row boxes. This makes for speedy organization and storage when traveling and saves me countless productivity minutes.
7.2.3. Business Cards
7.2.4. Penny Sleeves
7.2.5. Multi-Head Mini Screwdriver. These are nice to have around when you need to remove a card from a screw-down case. I like the 6-in-1 tool. Click here to buy one.
7.2.6. Loop, or Flash Magnifier
7.2.7. Smart Phone or Mini Cam for pics and video
7.2.8. Tripod for Smart Phone or Mini Cam. Click here to buy one.
7.2.9. Lavalier Mic(s). Click here to buy one.
7.2.10. Laptop, which should stay in your hotel room
8. What does the food situation look like?
Whether you're planning on attending for a single day or all five days, you'll need to eat something during the day time hours. For food, you pretty much have two options.
8.1. Convention Hall Vendors
As with many convention hall events, food vendors exist that offer quick fixes like pizza, burgers, fries, and other American classics. There are two costs associated with this choice: Money and Time.
8.1.1. Money: You'll learn quickly that prices for vendor items are often well over those found at your typical fast food joints. To give you an idea, here's a pic of the snack-bar menu at the Chicago venue: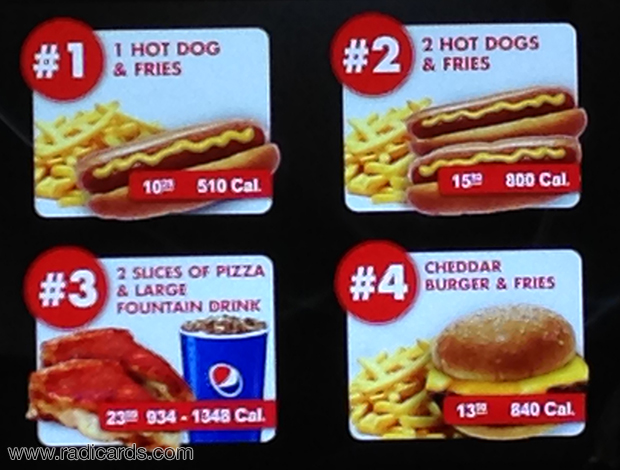 I mean, I get it; you're paying for convenience. Fine. But $23 for two slices of pizza and a fountain drink is down right criminal.
8.1.2. Time: Another drawback to indulging in vendor food is the time investment, of which is made up of three blocks:
Waiting in line
Waiting for your food after payment
Waiting to finish eating
That's a lot of waiting. You may spend one full hour or more completing these tasks. To put this into perspective – if you bought #3 once a day for five days, you'll have spent $115 (+tax) and 5 hours of your show experience waiting in line and eating. That's a hefty price to pay for commodities and it covers only one meal per day. Yikes!
8.2. Bring Your Own Snacks
You can easily dodge these expenses by bringing protein-rich snacks like granola bars, beef jerky, and peanuts. Snack-sized packs of these items can generally be bought in bulk at places like Costco and Sam's Club so be sure to stock up prior to your departure and stuff as many packs into your luggage as possible. The night before attendance, throw a few snack-packs into your backpack. It'll save you tons of time and cash while still keeping your energy level up during long hours on the show floor.
9. What are my dinner time options?
9.1. Restaurants: Some convention halls are surrounded by a variety of dining options. These are great meeting locations when you want to have dinner with friends, which I recommend doing at least once during the week if you can swing it. Keep in mind, these options are usually well attended due to prime proximity so price points may be considered high to many. It's the cost of convenience. However, when dining out, check online to see if any coupons exist; it may save you a few bucks.
For helpful tips on where to find great restaurant coupons, click here.
9.2. Grocery Stores: For those of us who prefer the more frugal route, we have options. While restaurants are often walking distances from the convention hall, grocery stores are usually just short Uber drives away. This is a nice option for small groups who prefer the quiet evening approach. It's also a great opportunity to share show experiences without being bothered with high prices and wait staff interruptions.
Before your visit to the grocery store, check to see if your hotel room is furnished with a refrigerator and/or microwave. These amenities make food storage and preparation more convenient.
In 2017, a friend and I took an Uber to a nearby grocery store and stocked up on a few items to hold us over for the week. I bought produce, drinks, and sandwich stuff. If I can recall, my total grocery bill for the week came to just over $30 (a cost that's easily met on a single restaurant outing) and I had more food than I could eat during the entire week. While making dinner in your hotel room each night may not be as attractive as dining out, it's certainly more economical and can be very relaxing and enjoyable.
10. Should I bring cards to sell or trade?
You can if you'd like. This isn't uncommon and this is a great place to make trades and deals with dealers and other collectors alike. Be mindful, however, that unless you have something of key significance that's not seen everyday, bringing things to trade might not be in your best interest as carrying extra items around might be cumbersome and/or burdensome.
We're talking The National here, a place where some of the most famous dealers congregate and for the most part, they've seen it all many times over. To grab attention of a dealer with a trade, obviously it has to make sense from a financial perspective for them. Carefully consider what you bring and ask yourself if it's worth your time to try and peddle before committing to it.
Before you decide to bring anything to trade or sell, be sure there aren't any rules around whether or not you can do this with other collectors while in the convention hall. I haven't investigated this for The National but I do know this rule exists at other shows. I know of one particular show where violators of this rule are permanently banned from re-entry. Again, I can't say with certainty if this is the case with The National but it would be wise to look into it beforehand.
11. How much negotiation room is there on card prices?
This question cannot be answered with any degree of accuracy because every dealer is different. If you see something you like, make an offer but do so without accidentally offending the seller. I like the question approach. Some examples I've used with success in the past are as follows:
"Would [some amount] be too low an offer?"
"Would [some amount] be a fair offer?"
I've used this strategy countless times and almost always, I've been able to either work a deal or make a connection. Negotiation Strategy 101. You're welcome.
12. Can it be walked through in a single day?
No. Even if you ran, which would likely alarm security, you wouldn't be able to comfortably cover the entire convention hall in a single day. In 2015, I went with a friend and we serpentined every row and while we finished coverage of the full show floor by the end of the final day, we had to skip a lot of dealer booths to do so. We're talking a massive convention hall with many hundreds of dealer booths. It's literally impossible to see it all, every dealer booth, within the small window of just 4.5 days.
13. Are there any special National Exclusive Promos?
Yes. Every year, exclusive promos are available at The National. There are always several different cards available and in different locations. Some are found in VIP member bags given to you on Sneak Peak night, others at show booths, and others at dealer showcases and events.
Be aware that while these promos are exclusively released at The National, many of them tend to find their way into the online marketplace. This often allows for better prices later. Try not to be a victim of the hard sell from dealers at The National trying to get you to overpay for National Exclusives, especially ones that aren't serial numbered. Remember, you're in control of your money; if the deal doesn't sound good, it probably isn't.
To view the current eBay auctions for National Convention Promos, click here.
14. Do the big brands have giveaways, or are there ways to purchase from them directly?
Yes. The major brands hold events at their booths to drive attention to their products, which often times can be purchased on the spot. When there are events, you have a shot at obtaining something exclusive. As far as purchasing the giveaway products directly, I've seen it work where collectors buy and trade the obtained contents with each other after the event and the promotional events are generally open for all to participate. Wrapper Redemption pack ripping parties are one of these types of events. If you do the pack opening thing, you might find this event to be an enjoyable one. It's certainly a popular one with exclusives to be found.
---
Further:
I hope this resource serves as a helpful guide for your next trip to The National Sports Collectors Convention. Please consider bookmarking it for quick reference as you approach the event date. Good luck and have fun. If you see me there, please feel free to say hello.
If you would like to contribute to making this resource even better with the addition of answers to other questions, please post the questions in the comments area and I'll update this article with those questions and their respective answers. Thank you.