Have you visited our store? Click here.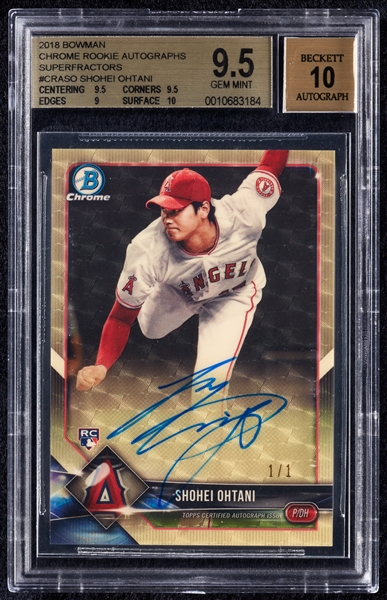 The most desired card of 2018 and likely the most talked about Superfractor since the legendary Stephen Strasburg Superfractor was auctioned in 2010, has been sold.
The Shohei Ohtani 2018 Bowman Chrome Superfractor AU was finally pulled at nearly the exact same time in early June when Shohei Ohtani was evaluated for a sprained UCL.1 The card was submitted to BGS and auctioned off with Goodwin and Co., the auction arm of Beckett Media. Coincidentally, it was listed around the same time Ohtani was thought to officially need Tommy John surgery due to additional damage to the UCL.2
Despite the untimely set of circumstances, this card still commanded serious numbers at auction and there's a good chance a lot of the marquee value was due to international interest. The auction lasted well over a week and closed on Thursday, 9/20/2018 with 27 bids at $184,056 (includes buyers premium).
If Ohtani is likely to have TJ surgery concluding the 2018 season, he'll be out for the entire 2019 season, which would be an excellent time to buy his cards. That said, the hype around the Superfractor will subside considerably but won't ever be forgotten and there's always the possibility we'll see it again down the line.
To view the current eBay auctions for Shohei Ohtani baseball cards, click here.
References:
Angels' Shohei Ohtani placed on DL with sprained UCL, to be re-evaluated in 3 weeks. www.espn.com ↩︎
Shohei Ohtani slams 2 homers after Tommy John surgery recommendation. www.espn.com ↩︎