Have you visited our store? Click here.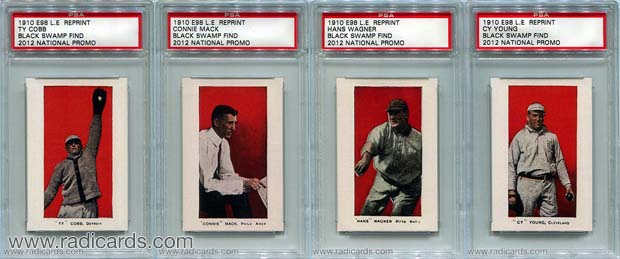 Let's talk about the famous Black Swamp Find from 2012. I can remember lying in my bed one morning in the summer of 2012 and awoke to the sound of my phone. It was a text message from my mom with a link to an article about some rare baseball cards that were just discovered. This was the famous find of a large and nearly immaculate batch of cards from the 1910 E98 set. It's a beautiful set with four color backgrounds and certainly one of the rarest of its era.
A pile of almost 700 print-fresh examples of these cards were found in an attic in Defiance, OH originally estimated to be worth around $3 million.((Man Finds Rare $3 Million Baseball Card Collection In The Attic. www.businessinsider.com)) It's considered by many to be one of the hobby's greatest finds of all time. PSA graded the cards and Heritage Auctions was selected as the premiere candidate to slowly piece these out and make them available to the public.((The Black Swamp Find: A Remarkable Discovery of E98 Baseball Cards. www.psacard.com))
For some collectors, the 1910 E98 set was considered to be a nearly impossible set building achievement but with the addition of this block of cards, that goal can be a possibility (assuming of course that you have the money). For those collectors with shallow pockets, which I'd imagine is a good chunk, excellent reprints are available. VIP pass attendees of the 2012 National were given a set of four reprints from this special find.
The original cards were on display at the 2012 National with some being auctioned off at the neighboring Camden Yards, home of the Baltimore Orioles. One Honus Wagner PSA 10 garnered $240,000 at auction with a combination of the top condition examples in the find bringing in a total of over $500,000. Seeing cards so incredibly old and in equally incredible condition is really quite something. They look almost unreal when seen in person. With regard to color and brightness, they're not much different looking than the commemorative reprints shown here. Enjoy the following video.((Baseball Cards Found in an Attic: The Black Swamp Find. www.youtube.com))
To see what's currently on eBay from 1910 E98, click here.