Have you visited our store? Click here.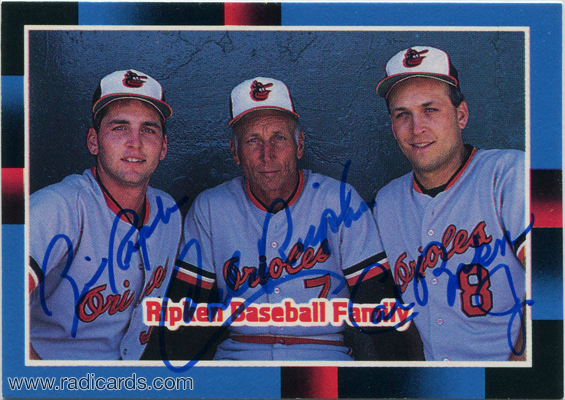 The 1988 Donruss #625 baseball card features a family portrait. This has always been one of those cards that I thought would look really cool signed by all three guys. I never really put much thought into it over the years. During a very brief conversation on autographs with a friend, I indicated that I'd like to someday have an example of this card in my collection that was signed by all three Ripkens. I searched eBay during that conversation and one was listed with a poor title and less than a day left before the auction expired. I managed to get this for less than the price of a nice dinner for two at a Carl's Jr.
1988 Donruss Baseball was certainly a memorable product. It came out the same year I started collecting baseball cards. I can remember the Roberto Alomar being the key rookie card in the set. I can also remember the Ron Gant being the key short print in the set. Gant was a hot prospect at the time so obtaining his 1988 Donruss rookie card was highly desirable. I opened quite a few packs of 1988 Donruss Baseball during that year but never once pulled card #625 or even know it featured the three Ripkens. It wouldn't be until many years later that I would discover this card via a scan someone shared online. I was floored that it was signed by all three guys. Not only was the appearance excellent but the three signatures really make this card a gem. I knew I'd have to add this to the mental checklist of cards to someday add to the collection.
It's fun to learn about the existence of a card literally decades after its initial release. Because I've never owned a full set of 1988 Donruss Baseball, I haven't had any opportunity to sift through every card to see all that's in it. This is the case with many sets from the 1980s. I've opened tons of 1988 Topps Baseball and 1989 Donruss Baseball but still don't believe I've seen every card in either of these sets. This also goes for many update and traded sets from the era. I'm always learning of certain cards that exist in these sets. One example that comes to mind is the 1990 Fleer Update Kevin Maas.
The 1988 Donruss #625 baseball card is a favorite. I can appreciate a card that says so many things and had more to say as the years went by. Billy Ripken was just one year away from being featured on one of the hobby's most infamous "error" cards. Cal Ripken was just 7 years away from breaking Lou Gehrig's Consecutive Game Streak, and Cal Ripken Sr. was finishing his managerial career with the Baltimore Orioles. I love this card and appreciate the fellas depicted on it.
To see what's currently on eBay from 1988 Donruss, click here.