Have you visited our store? Click here.
The original baseball cards are depicted next to the original paintings for size and quality comparison.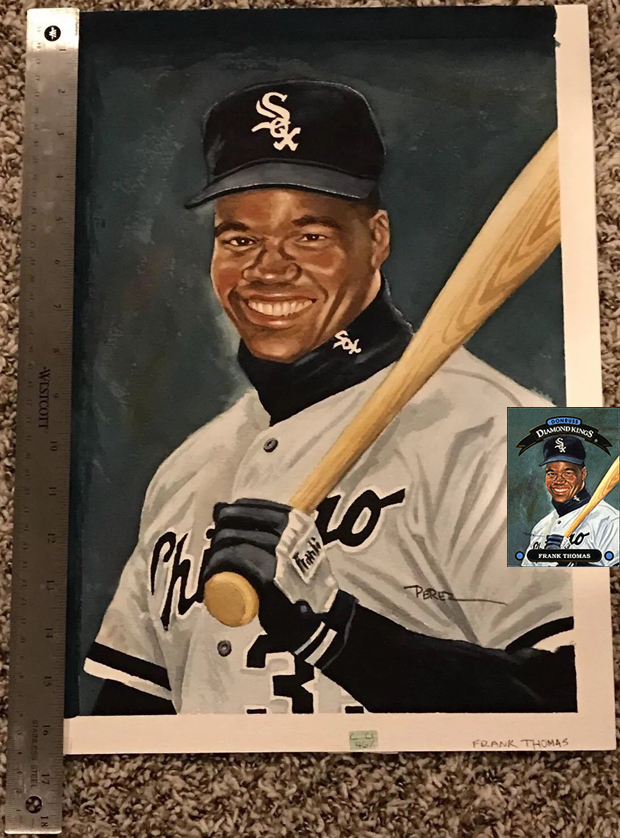 For those of you who don't already know and among many other creative accolades, Dick Perez was the official artist for all Donruss Diamond Kings sets from 1982 to 1996. Much of his original art is on display at the Baseball Hall of Fame. But some of it is kept in private collections around the country. Above is an image of the one and only original painting Dick Perez did for the always appreciated Frank Thomas 1992 Donruss Diamond Kings card.
The Frank Thomas painting made its way to eBay on Monday, August 6, 2018 with a BIN/OBO at $1799.99, which is a bargain! An offer was accepted on the same day for the steal price of $900. For the significance of this item, that's likely the buy of the decade for the new owner.
I can remember when 1992 Donruss first came out. It was highly popular as collectors chased these Diamond Kings and the even more elusive Donruss Elite's. The Frank Thomas was the most desirable card in the Diamond Kings set and at one point was worth around $30. Every time I see this card, I'm reminded of the hobby hype around 1992 Donruss.
In addition to the Frank Thomas painting, the seller also had the original Dick Perez painting for the David Justice 1992 Triple Play Gallery of Stars card.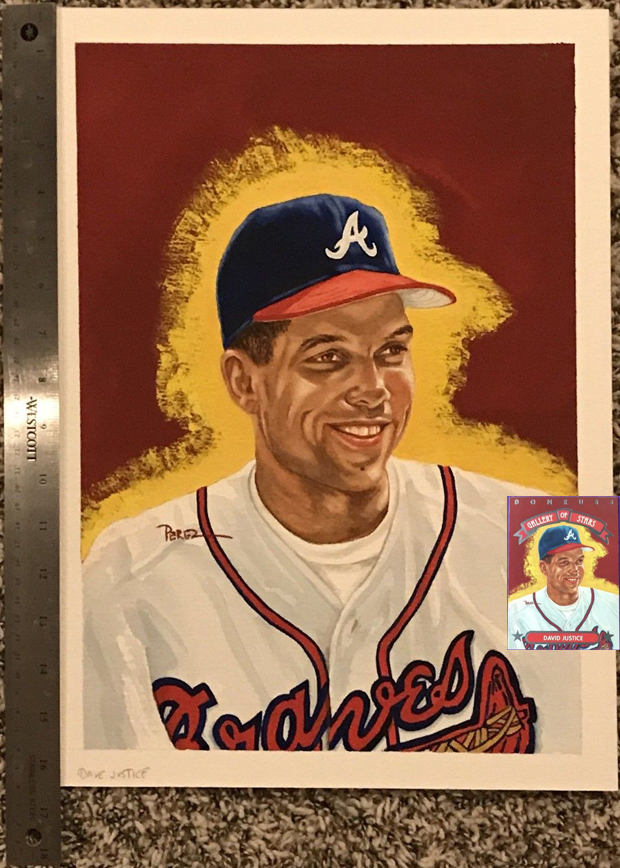 1992 was the inaugural year for the Triple Play arm of Donruss. The set contained a Diamond Kings-like insert set called Gallery of Stars and featured the same great art from Dick Perez. It's difficult not to appreciate this sort of art as it embraces the essence of baseball in its finest creative form.
The David Justice painting was made available on eBay on Monday, August 6, 2018 with a BIN/OBO at $899.99. An offer was accepted on September 20, 2018 for $500. I'm surprised it lasted as long as it did. For the history and theme alone, I'd have thought this would've sold much sooner.
"How can you not be romantic about baseball?" – Billy Beane (Brad Pitt), Moneyball
Ever since I started collecting baseball cards in 1988, Dick Perez's art has been a staple of my youthful collecting memories. These two pieces of art history capture a time that reminds us why we love baseball and for collectors, why we love the hobby. When I see stuff like this, I'm immediately transported back to more innocent times of the past. These original paintings are not only charrished, they're romantically timeless.
To see what's currently on eBay from Donruss Diamond Kings, click here.