Have you visited our store? Click here.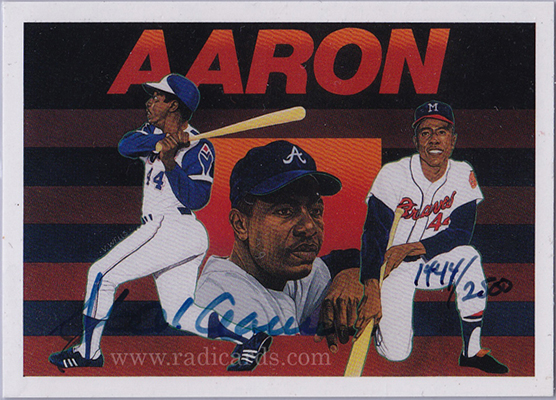 I recently (finally) located and acquired this ultra pesky release from 1991 Upper Deck. This is the 1991 Upper Deck Hank Aaron
AU. It only took me 19 years to see one in person and when I did, I jumped on it! To be honest, this is another famous auto that brothers the 1990 Upper Deck Reggie Jackson AU. Another white whale that still holds weight as one of the most important autos in the hobby to this day. The early days of pack pulled autos as discussed in earlier entries were ones of preposterous odds. I always used to joke around with the comparison in odds of pulling a card of this caliber and winning the lotto and being struck by lightning twice on the same day while in an underground lab at the north pole. I'm convinced that these early pack pulled autos will always survive the test of time. They will also always possess much more collectability than any (all?) of the autos being pumped out in mass quantity in today's "hit" crazed market.
I've had numerous discussions with collectors over the years about these very issues and everyone seems to agree on one thing: these cards are extremely scarce and next to impossible to pull. The hobby today is vastly different than it was 19 years ago. This release, numbered to 2500, is still considered by some to be near impossible to locate while autos that are generated today are often numbered to just 5 copies can be found on the auction block any day of the week. So why the heck is finding a card that's numbered to 2500 more akin to finding the holy grail? The answer lies in the quotient of production and insertion ratios. Let's break it down with the following hypothetical (but realistic) example:
Assumptions:
Before we dive into the analysis, we will need some basic assumptions. The following assumptions only exist in an ideal world. I'm not 100% positive of the accuracy of the stated output rate, it's only an estimation. Furthermore, as with any large output rate, a complimentary large probability for duplicates exists. For the sake of this discussion and to paint a clearer picture we'll require the following:
Total production output = 800 million units (cards)
No two packs are alike (assume no repetition)
Manufacture Output
1991 Upper Deck – production rate (output): 1,000,000 copies of each of the 800 cards in the set = 800,000,000. (That's only assuming a 1 million production rate, the rate could vary well have been much higher (or lower but either way, nobody at Upper Deck will ever disclose that information).
1991 Upper Deck Hank Aaron AUTO – production rate: 2500
Packaging Statistics:
Boxes per case: 20; Packs per box: 36; Cards per pack: 15
Given the packaging stats, let's dig deeper. With these assumptions, we come to the following probabilities:
Card per case: 10,800, percentage of total output = .00135
Total number of cases produced: 74,074
Odds of pulling Aaron AUTO in a case: 1:30
Cards per box: 540, percentage of total output = .0000675
Total number of boxes produced: 1,481,482
Odds of pulling Aaron AUTO in a box: 1:593
Cards per pack: 15, percentage of total output = .000001875
Total number of packs produced: 53,333,333
Odds of pulling Aaron AUTO in a pack: 1:21,334
Conclusion:
As we can see, pulling the Aaron AUTO out of a pack is a monster task! It'll cost you roughly $3,600 give or take depending on how and where you buy your cases of 1991 Upper Deck. Assuming that it takes 20 minutes to open a single box, it'll take you 12,000 minutes (200 hours or 8.3 days) to bust through 30 cases of 1991 Upper Deck and again, that's assuming no breaks for sleeping or eating. Good luck to you if you are planning to attempt the triple iron man task of pulling this card from a pack!
These cards are numbered to 2500 and they still to this day fetch upwards of $200 on the secondary market. So why does this card hold so much weight if there are 2500 (2499 now) of them floating around out there? The answer is in the coefficient of output and insertion rates. In imprecise (but more comprehendible) terms, the harder they are to pull, the more sought after they will be to collectors (which is obvious of course). This very fact leads me to the following notion: if the hobby still created this type of quotient the following outcomes may result:
The integrity of today's autographed card may be strengthened significantly
The values of today's autographed card will potentially graduate from the $5 box to the showcase and potentially sell for much more on the secondary auction block
Hobby cynics will retire their negative outlooks for more hopeful perspectives
Common's (base cards) won't be affected because nobody collects them anyways
My hope is that the hobby will recognize the issues relating to collectability and value stability, the relation to production and insertion rates and how they respectively affect demand. In closing I'll leave you with the following questions to consider: Can there be a combination of the hobby in 1991 and that in 2010? Can there be a compromise between over-saturation and inserts with integrity? Is the hobby headed for a roadblock with market over-saturation of guaranteed hits?
Is there still hope?
To see the current eBay auctions for the 1991 Upper Deck Hank Aaron, click here.