Have you visited our store? Click here.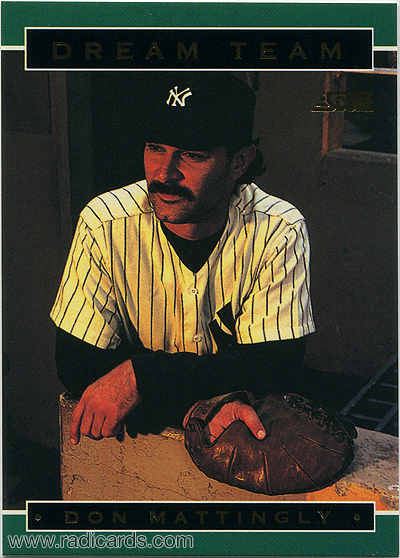 Since 2017 is a year that ends with a "7" (Mickey Mantle's jersey number) I figured I'd do a timeline of the key household names the New York Yankees have rostered dating back to Babe Ruth and up to Derek Jeter. I've wanted to cover this in some way for a while because Derek Jeter recently retired and the Yankees have yet to find a successor to captain the legendary dynasty. Key players like Hal Chase and Willie Keeler held spots on the roster prior to Ruth's tenure and their places are forever chiseled into baseball history. This timeline covers names commonly mentioned in routine conversations around the Yankees. Some of these fellas didn't make the Hall of Fame and some had their lives cut short by disease or tragic accidents but each one holds a permanent place in baseball history.
The New York Yankees have had a dominant key player, a megastar on their roster since Babe Ruth came over from the Boston Red Sox in 1920. When one player retires, another is added. Sure, there are a few empty years here and there but for the most part, the Yankees have hosted some of the best players in all of baseball back-to-back since 1920. That said, here is the New York Yankees roster of guys that have helped make the dynasty what it is today.
Babe Ruth: 1914-1935.
The man needs no introduction. He began his professional career with the Boston Red Sox as a pitcher. After the infamous trade to the Yankees in 1920, he moved to hitting as his primary role and in doing so, helped shape the New York Yankees as a premiere club from 1920-1935. His accolades include: MVP in 1923, 2x All-Star, 714 career homers, .342 career average, and a severely entertaining player to watch.[1]Babe Ruth. www.baseball-reference.com
Lou Gehrig: 1923-1939.
Much like Ruth, Gehrig was a monster at the plate. His career average is .340, which is incredible by any historical standard.[2]Lou Gehrig. www.baseball-reference.com He and Ruth competed for home runs in 1927 and were somewhat close friends throughout their time with the Yankees. Gehrig's life was cut short at age 37 by a muscle degenerative disease.
Joe DiMaggio: 1936-1951 (1943-1945 in military).
For his 13 active years, DiMaggio was an All-Star every single year. He's a 3x MVP and averaged .325.[3]Joe DiMaggio. www.baseball-reference.com He was once married to Marilyn Monroe.
Yogi Berra: 1946-1963
Berra has 10 World Series rings. He was 15x All-Star, 3x MVP, and likely one of the greatest catchers of all-time.[4]Yogi Berra. www.baseball-reference.com He was considered by many on the Yankees as the big brother, the guy with advice for the younger fellas. He was an outstanding role model.
Whitey Ford: 1950-1967 (1951-1952 in military).
Over the course of his 16-year career, he threw a career ERA of 2.75, was an 8x All-Star, and received the Cy Young Award in 1961.[5]Whitey Ford. www.baseball-reference.com He's considered to be one of the team's best pitchers during his era. Ford had a unique ability to remain calm in high-stress situations. Ford once pitched 33 2/3 scoreless innings in a World Series, with which he hold 8 rings.
Mickey Mantle: 1951-1968.
Mantle picked up right where Dimaggio left off, in centerfield. He's also a 3x MVP and averaged .298 with 536 career dingers and 16x All-Star appearances.[6]Mickey Mantle. www.baseball-reference.com Knee problems and alcohol would become issues later in his career but a legend nonetheless.
Roger Maris: 1957-1968.
Much like the Ruth/Gehrig home run race of 1927, Mantle and Maris competed for home runs in 1961. It was a magical year and Maris won with a fitting 61 home runs. Maris is credited with a pair of MVP Awards in 1960 and 1961.[7]Roger Maris. www.baseball-reference.com
Thurman Munson: 1969-1979.
Munson had huge potential. In his short career with the Yankees, he was Rookie of the Year in 1970, pulled in a .292 average, 7x All-Star appearances, 1 MVP, and 3 Gold Gloves.[8]Thurman Munson. www.baseball-reference.com His life was cut short by a tragic plane crash in August of 1979.
Reggie Jackson: 1967-1987.
I'm adding Jackson between Munson and Mattingly because he played for the New York Yankees between 1977 and 1981. He was a great hitting leader during this brief 5-year stint and it was during this time, 1977 World Series time to be exact, that he was named "Mr. October" for his lucrative performance during the postseason. He was an All-Star every year during his time with the Yankees.[9]Reggie Jackson. www.baseball-reference.com
Don Mattingly: 1982-1995.
Donnie Baseball dominated the 1980s and early 1990s as the popular Yankees hitter. He was MVP in 1985, had 6x All-Star appearances, 9x Gold Glove and 3x Silver Slugger awards, and averaged .307.[10]Don Mattingly. www.baseball-reference.com He was a superstar for the team prior to serving as manager of the Los Angeles Dodgers.
Mariano Rivera: 1995-2013.
Rivera is certainly one of the game's greatest closers ever. Over his 19-year professional tenure, entire of which was spent with the New York Yankees, he had an unheard of career ERA of 2.21, 652 Saves, and was 13x All-Star.[11]Mariano Rivera. www.baseball-reference.com
Derek Jeter: 1995-2014.
It's fitting that Jeter began serving just as Mattingly began departing. Jeter was Rookie of the Year in 1996. In his long career, he knocked out 3465 hits, was 14x All-Star, 5x Gold Glove, 5x Silver Slugger and averaged .310.[12]Derek Jeter. www.baseball-reference.com Those are amazing stats but so is playing for 20 years.
???: Now-.
I've always wondered who has the athletic ability to be next in line to continue the legacy carried through by these New York Yankees legends. It's going to be hard to match and continue forward. With the passing of former New York Yankees Owner, George Steinbrenner and the Retiring of Derek Jeter, I'm wondering when we'll see our next Yankees legend.
Some fellas believe Gary Sanchez may in fact have the talent required to be next in line as Yankees legend. We'll see what happens. He hit .299 in 2016, which is a healthy start to what could be a promising career with the dynasty. Others believe Aaron Judge could be the one to carry the baton.
Who do you think might carry the baton? Please share a thought in the comments area.
To view the current eBay auctions for New York Yankees baseball cards, click here.