Have you visited our store? Click here.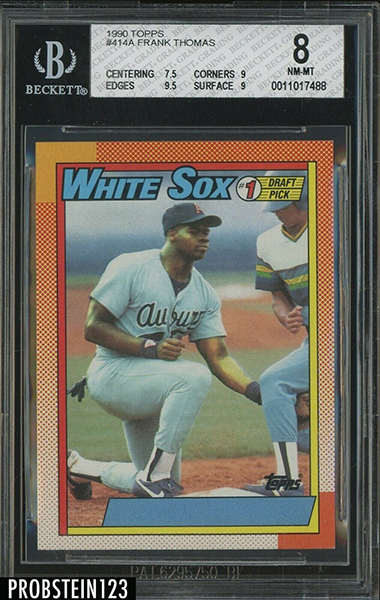 Disclaimer: This article is offered as education. In no way are we placing any blame on either of the parties mentioned. Please keep this in mind when reading.
A lot of fake examples of the Frank Thomas 1990 Topps NNOF have entered the market recently. This appears to be one from the recent batch.
The Frank Thomas 1990 Topps No Name On Front (NNOF) can be a tough one to identify due to its subtle ID characteristics. If you don't know what to look for beyond the card not showing the name on the blue name plate, fakes can be easy to misidentify.
In this case, a grader at BGS lacked the proper education required to spot fakes of the NNOF and as such, slabbed the card an 8. Once it made it to Probstein, it was processed and listed as per normal day-to-day protocol like everything else. Probstein's a credible volume seller so it's understandable that something like this would slip through the cracks.
The best all of us can do (both buyer and seller) is arm ourselves with information. Please don't hold any of this against BGS or Probstein. Honest mistakes happen; let it go.
It's my understanding that once Rick became aware of the issue, he pulled the listing. As such, I thought it would make for an interesting conversation piece since BGS slabbed the thing to begin with.
For those of you in the market but still learning about this card, I strongly advise only considering graded examples. Authentic examples feature breaks in the black lines that frame the blue name plate and left border edge. If those lines are solid (like on the one shown above), it's a fake.
Keep in mind that some forgers are pretty crafty and have been producing fakes that feature these line breaks. That said, I'd advise only considering slabbed examples from the three big grading companies: BGS, PSA, and SGC.
To see the current eBay auctions for the 1990 Topps NNOF Frank Thomas, click here.