Have you visited our store? Click here.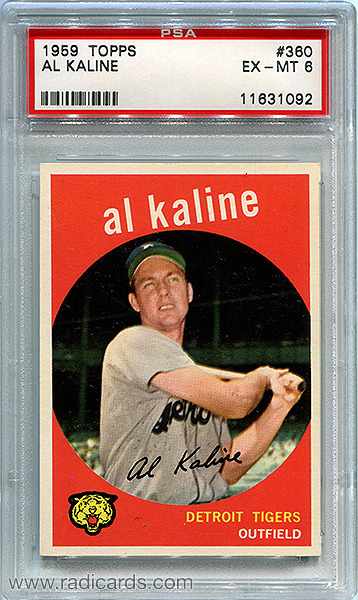 This 1959 Topps Al Kaline comes with a personal story. I was taking the bus home from a day of 2nd or 3rd grade. A fellow student knew I collected baseball cards and brought this card to show me. It was the first time I'd seen it and heard of Al Kaline. My instant first thought was, the battery guy? You know, because Alkaline batteries; it made sense. Anyway, I can't remember if the card was offered to me but I do remember looking it up in the price guide when I got home and was floored that this card was listed for $60! I immediately wanted a copy. This card always reminds me of that memory so when I saw this well-centered PSA6 so many years later, I had to have it. All these years later I'm left thinking, does that kid on the bus still have this card?
1959 Topps comes with standard 2.5″x3.5″ dimensions and contains 572 cards, which was the largest Topps set issued up until 1959. Card numbers up to 506 possess red and green printing on their backs with the card number in white in a green box. Cards 507 and up (high numbers) possess black and red printing on their backs with the card number in a black box. Cards 199-286 can be found with either white or the less common gray backs. Both varieties appear to have similar values. A number of cards in the 300s block were made with and without an extra traded or option line on the card backs. Those without the added line are scarcer and more valuable. Cards were released in 1-card penny packs or 6-card nickel packs. Key RCs include: Sparky Anderson, Norm Cash, and Bob Gibson.
To see what's currently on eBay from 1959 Topps, click here.