Have you visited our store? Click here.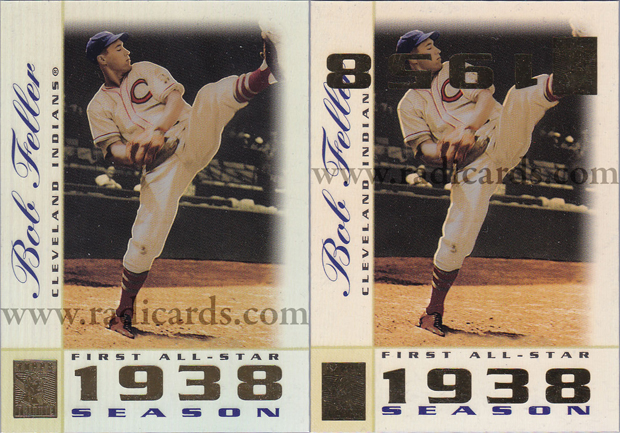 I found this 2003 Topps Tribute Bob Feller
card, ironically, around the time that the world lost one of the best pitchers in baseball. Making his MLB debut at the ripe age of 17, Rapid Robert polished his pitching career with 8 All-Star seasons; 266 games won; 2581 strikeouts; an average career ERA of 3.25; and a fastball that's said to have clocked in a 104mph! Feller's talents on the field were just as impressive as his talents as a human being.
2003 Topps Tribute:
Topps Tribute is one of Topps' premium lines. In overall quality and investment value it ranks along side that of Triple Threads or Sterling. Although, in my honest opinion, I favor Tribute's design aesthetic over the other two. There's something about the refractor finish combined with the polished gold print that really hits me. I've always liked the refractor technology; it's gorgeous! The rainbow colors that appear when the card is manipulated by the direction at which light hits it. These scans can't possibly provide any justifiable comparison to what these cards are like in-hand.
Last I checked, a pack of 2010 Topps Tribute will set you back a good $50 while a box (6 packs) will run you three, count 'em 3, Franklin's! Regardless of general inflation and appreciation rates over the past 8 years, I would imaging that 2003 Topps Tribute, the product for which this Feller can be found, is comparatively priced to that of its 2010 counterpart. So why the cost analysis? Well, it's simple really. Assuming a suggested retail price of $300/box let's look at this from a quality standpoint. Here we have a relatively high quality product with focus on aesthetics and value. Additionally, these cards were significantly short printed in comparison to Topps' abundant flagship product. Higher quality means higher production costs which in turn means increased quality control: higher quality equates to stricter quality control measures. Additionally, more stringent quality guidelines should equate to significant reduction in the percentage of production variance. In operations management, we call this Lean Manufacturing (zero scrap or as close to zero scrap as possible). It can be assumed that higher investments in product manufacturing result in less scrap. That's the hope anyway.
So my question here is this: why/how the heck was this Feller overprint allowed to escape? I see errors like this more frequently in low to low-middle tier products but significantly less so with boutique products like Topps Tribute. With such high levels of initial capital investment for the product, errors like this simply shouldn't exist. That it does is laughable really. But then again, I always have to remind myself of the human condition. Humans made these production machines and they also load and operate them. As I remember this little fact, I am reminded that no matter the product, if it's man-made, no matter how much investment capital is involved, there will always be a chance for some degree of variation. This 2003 Topps Tribute Bob Feller overprint is living proof.
Value and Collectibility:
Value and collectibility all depends on the buyer. Much like romance where beauty is in the eye of the beholder; in card collecting, value is in the mind of the buyer. What this means is that this card, like all others, is only worth what someone is willing to pay for it. As time passes perhaps that number will grow but by how much is tough to say. I have no idea how many of these errors made it out alive. This could be the only one but I cannot back that assumption with any degree of certainty. Although this Bob Feller overprint will likely never be recognized by any reputable price guide, it still makes for a cool and unexpected surprise.
To see what's currently on eBay from 2003 Topps Tribute, click here.