Have you visited our store? Click here.
1996 Circa is a colorful 200-card set by Fleer and offered in 24-pack boxes. Pack packaging is cellophane packs in cardboard boxes wrapped in cellophane. Unless you have a knife and scissors handy, be prepared to spend nearly 30 minutes just in the pack-opening process, which doesn't include going through the cards once they've been freed from the packs. Without these two handy tools, opening packs can be quite difficult. We timed how long it takes to open one pack and it clocked in at 1:08 minutes.
1996 Circa introduced the Rave parallel set, which has become a collector favorite. 1996 Circa Rave parallels were inserted into packs at a rate of 1:60 and unfortunately, we didn't pull one from this box. We did, however, pull 2 Boss, 3 Access inserts. The notable RC in this set is Darin Erstad, and the notable Rookie Year card is Derek Jeter. Both of which were pulled from this box. Even though we didn't pull any Rave parallels, 1996 Circa was a fun albeit time consuming box to open.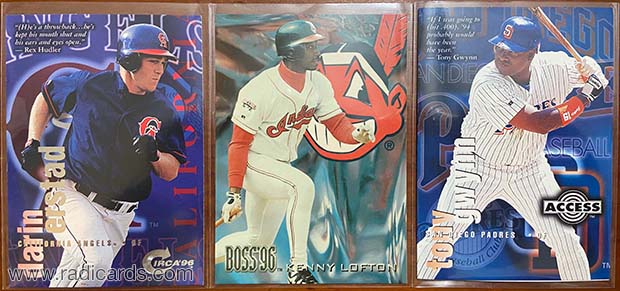 To see what's currently on eBay from 1996 Circa, click here.
Special thanks to Stephen Fisher for purchasing this box of 1996 Circa at Playball Sports Cards & Memorabilia in Arlington, TX for $119 and allowing me to open it on video.