Have you visited our store? Click here.
Hank Aaron went from poverty to a household name as one of baseball's greatest athletes and thus one of America's most notable figures. In his 23-year career and among his incredibly impressive portfolio, Aaron holds game records for RBI (2297), and Total Bases (6856), and is a 25x All-Star.1
He's best known for his then home run record of 755, which beat the long standing record held by Babe Ruth of 714 from 1935. While Barry Bonds has since eclipsed that record (762), the cloud of the steroid era has left many purists feeling that Hank Aaron is still the legitimate record holder.
Interesting fact: Hank Aaron hit 40 or more home runs in 8 separate seasons. Even by today's standards, a single 40+ home run season is considered rare.
His 1954 Topps rookie card still hails as a hobby classic and one that consistently brings healthy figures at closing. As with many key vintage rookie cards, this one is expected to continue appreciating with time, naturally.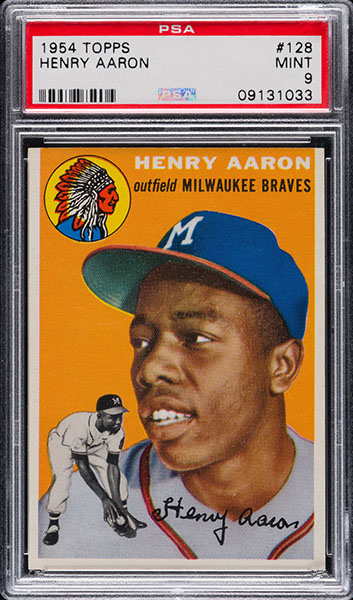 In his first year of eligibility, Hank Aaron was inducted into the Baseball Hall of Fame in 1982 with 97.8% approval. If you ask around who people think are the best hitters of all time, expect many responses to include "Hammerin' Hank" among their selection.
References:
Hank Aaron. www.baseball-reference.com ↩︎