Have you visited our store? Click here.
Not unlike previous years, 2017 was a another banner year for the Baseball Hall of Fame. Three guys were elected this year that dominated their positions during their professional tenures.
Note: As a card collector and even though I love baseball, I rarely watch it. I love attending live games but again, I rarely do. I'm actually more of a numbers guy than a watcher. That said, my mind sometimes draws a blank when I think about what to say when talking about a player's career. I'm gonna do my best here though because these are guys that I've either actively collected or have found their way into my collection somehow. Let's get to it. Here are the three players that made it into the Baseball Hall of Fame in 2017.
Jeff Bagwell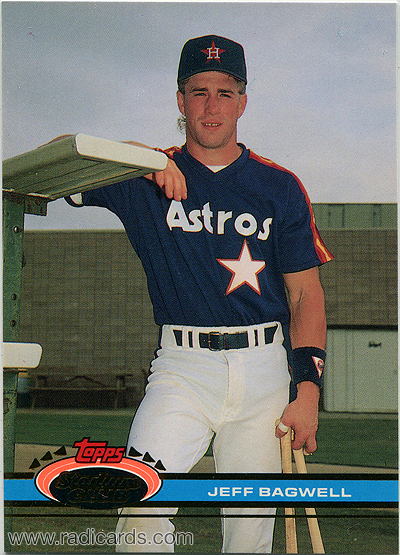 Back when 1991 Stadium Club Baseball first dropped onto the scene, it was a monster of a success. The high-gloss crystal clear photography coupled with borderless design and gold foil stripes and arrows really made this product standout amongst other releases from the same year. It features a variety of once star rookie hopefuls. In that list was Jeff Bagwell. I can remember staying at a friends house and learning that his dad had an unopened box of 1991 Stadium Club Baseball and wishing he'd let me watch him open just one pack. I was excited about the prospect of pulling the 1991 Stadium Club Jeff Bagwell rookie card. It was a key card in the set back then and still is today.
Bagwell was one of those rare talents that remained on the same team his entire professional tenure. His career spanned 15 years and in that time, his notable achievements include: a Rookie of the Year Award in 1991, an MVP Award in 1994, a Career AVG of .297, 449 Home Runs, 2314 Hits, 4x All-Star, and 3x Silver Slugger.[1]Jeff Bagwell. www.baseball-reference.com Those accolades say Hall of Fame. Among a variety of other star players, I actively collected Jeff Bagwell in the 1990s and pulled together a nice little collection of his cards. I always appreciated him as a player. If you can swing it financially, I recommend his 1991 Topps Traded Tiffany rookie card. If not, his 1991 Stadium Club is a nice choice.
To view the current eBay auctions for Jeff Bagwell baseball cards, click here.
---
Ivan Rodriguez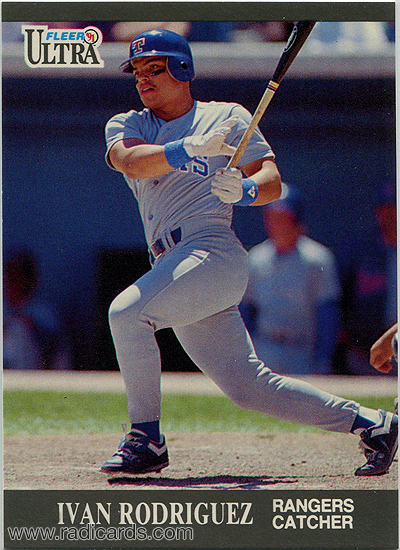 I never really collected Ivan Rodriguez to any significant degree. I plucked off his many different rookie cards over the years and still pick up doubles here and there but beyond that, my Ivan Rodriguez collection is sparse at best. The nickname, "Pudge" was given to former Sox catcher and legend, Carlton Fisk in the 1970s. I was surprised to hear this nickname be given to Ivan Rodriguez too. I guess all catchers can get this nickname? I never really got the significance behind the nickname thing.
Ivan Rodriguez played professionally for 21 years and piled on the following accolades: an MVP Award in 1999, a Career AVG of .296, 2844 Hits, 14x All-Star, 13x Gold Glove, and 7x Silver Slugger.[2]Ivan Rodriguez. www.baseball-reference.com I never really paid much attention to his stats, which is probably because I never really collected Ivan Rodriguez. The fact that all of this came from one guy is really impressive though. If you can swing it financially, I recommend his 1991 Topps Traded Tiffany rookie card. If not, his 1991 Ultra Update is a nice choice.
To view the current eBay auctions for Ivan Rodriguez baseball cards, click here.
---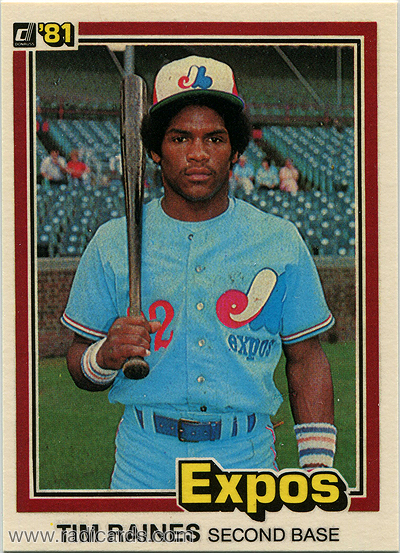 Tim Raines
I have to be honest, I never thought Tim Raines would ever get into the HOF. It just seemed like a long shot but I'm glad he did. Over a 23-year professional career, his notable accolades include: a Career AVG of .294, 2605 Hits, 7x All-Star, and 1x Silver Slugger.[3]Tim Raines. www.baseball-reference.com He's 5th all-time in career stolen bases with 808, which I think is highly impressive. He may have been overshadowed by some of the other fellas that were popular during his era i.e., Rickey Henderson. Much like Ivan Rodriguez, I didn't collect Tim Raines to any significant degree. I bought a few of his rookie cards but that's about it. When I was younger, his name was seldom brought up in conversations so I was never in a position to think about him or his cards. Hence why I never really collected him. As for his rookie cards, I recommend high grade examples but they are also excellent additions in raw form.
To view the current eBay auctions for Tim Raines baseball cards, click here.
---
The PED Conversation
The 2017 Baseball Hall of Fame Class is ripe with dialogue. Unfortunately, each of these guys have been mentioned in some way in conversations around PEDs.[4]Ivan Rodriguez, Tim Raines and Jeff Bagwell prove Hall of Fame does forgive. www.usatoday.com Tim Raines struggled with a cocaine addiction early in his career having spent an estimated $40k on the drug. Both Jeff Bagwell and Ivan Rodriguez played during the steroid era. In Jose Canseco's book, Juiced, he talks about how he personally injected Ivan Rodriguez along with other players on the Texas Rangers, with steroid.[5]Ivan Rodriguez Dogged by Suspicions at Cooperstown's Door. www.nytimes.com Jose Canseco and Ivan Rodriguez both played for the Texas Rangers from 1992-94.[6]How ex-teammate's unproven allegation hurts Pudge's shot to make HOF on 1st try (and why vote will be so close). sportsday.dallasnews.com Jeff Bagwell hit very few home runs in the minors but then became one of the most prolific home run hitters as a pro.
Conversations like this always seem to come back to referencing guys like Roger Clemens, Barry Bonds, Sammy Sosa, Mark McGwire, and Rafael Palmeiro (a 500/3000 member) and whether or not they should be let into the Hall of Fame. Each of these guys are either believed or are proven to have had help so is it fair to put them alongside legends like Hank Aaron, Ted Williams, and Mickey Mantle because they have similar numbers? Rhetorical, yes, but this question should be considered.
---
I'd love to hear your thoughts on these guys. Please share them in the comments area.