Have you visited our store? Click here.
---

Another installment of the Dallas Card Show is in the books. This show just keeps getting better and better. I really appreciate any opportunity to connect with new and existing contacts. In between story telling, I was able to conduct my routine digging and came out with some solid additions to my typical categories. Let's dig into it.
---
Vintage:
My vintage pickups were slimmer than usual but I'm still happy with what I found. This was my first encounter with a 1972 Topps Rookie Stars card depicting Don Baylor. His official rookie card is found in the 1971 Topps set so it was interesting to stumble across one from 1972 of a similar variety. While difficult to see due to the glare, I also grabbed low grade examples of the 1970 Topps Ted Williams and the 1971 Topps Bob Gibson. And finally, I found a really nice OC (off-centered) copy of the 1980 Topps Rod Carew.
Junk Wax:
With regard to the Junk Wax era, I found a small block of 11 copies of the 1987 Topps Traded Reggie Jackson for $1. Another notable add was a miscut 1988 Fleer #640 featuring Cal Ripken Jr. and his brother, Bill. And just because I almost never see them, I grabbed a 1992 OPC Manny Ramirez. The rest are hand picked cherries.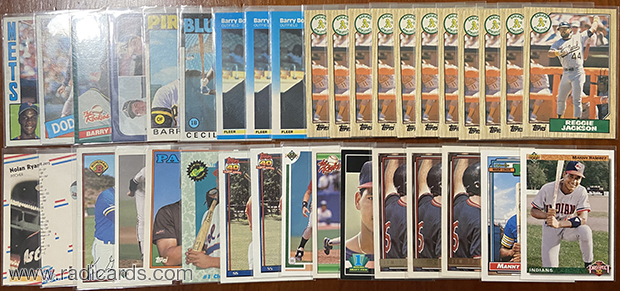 1990s Inserts & Other:
I did pretty well in the inserts category. This was the first time I'd seen the 1996 FanFest Steve Carlton cards. The seller had the 5-card set spread across multiple stacks on his table. I collected and bought the whole set, which features some very attractive cards. Other notable pickups include a few early Donruss Elites and a 2001 Topps Chrome Retrofractor Johnny Damon that depicts him in an A's uniform, a team on which he player for only that one 2001 season. Finally, I found a 7-card pack of 2003 National Convention show stamped cards with 6 being /5 and 1 being a 1/1. The cost of this pack was just $1. The rest of this stuff was pulled from a variety of boxes over the weekend.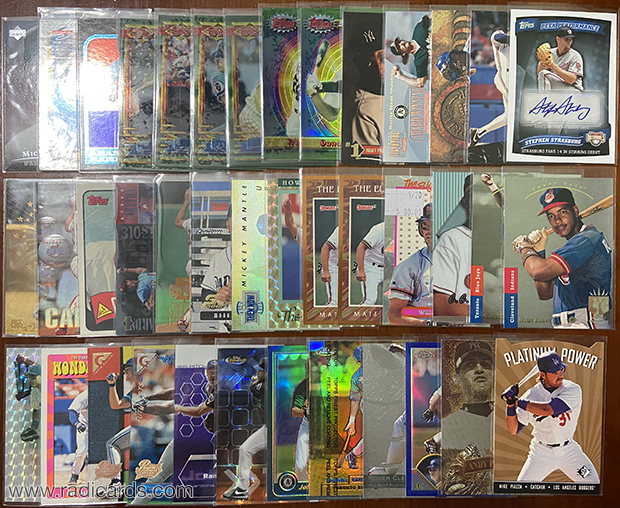 To see what's currently on eBay from 1996 FanFest Carlton, click here.
Graded:
The Jim Rice RC was a throw-in for a purchase I made with a seller for the 1984 TCMA Joe Carter, a Dennis Eckersley AU, a low grade 1992 Donruss Elite Howard Johnson, and a few 2002 Leaf Certified Mirror Black Unfulfilled Replacements. The 1988 Topps Tiffany Jay Bell RC was a nice little find in a bargain bin of low end graded cards. It was the only card in the box I wanted and the centering on it is near perfection.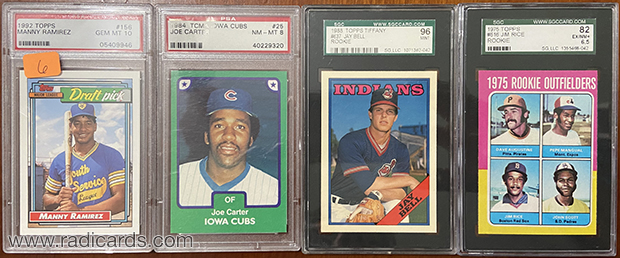 Extra Special Thanks! to Stephen Fisher of The Corner Collector for giving me the Manny Ramirez 1992 Topps PSA 10. You can follow him on Instagram at the_corner_collector.
Basketball & Football:
I've recently begun to look at stuff in other sports. My categorical preferences remain the same, however. I was surprised to find a 1998 Fleer Brilliants 24k Gold parallel in the wild. I was happy to grab the 1994 CC Silver Signature Grant Hill RC. Most of this stuff was pretty cheap. I'm still floored that Jim Kelly RCs are as cheap as they are. Here's the run from this category: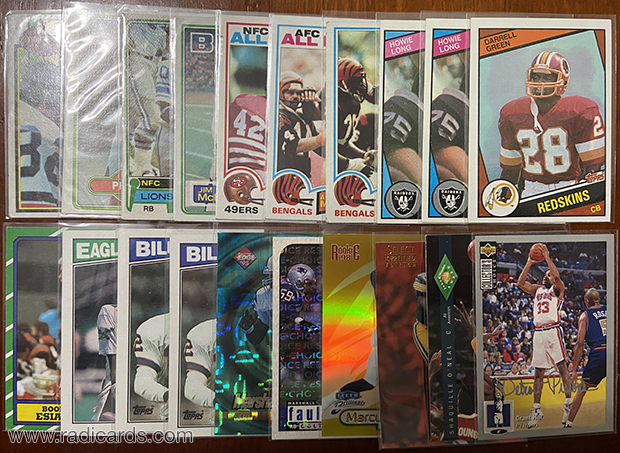 Freebies:
Matt Baker Authenticated was giving out Raw Card Review samples. I was pleasantly surprised to be given this Zion Williamson. The 1990 Topps Frank Thomas RC was in the VIP bag. I didn't receive my bag until Saturday evening when I inquired about it and the bag that was pulled coincidentally contained this card.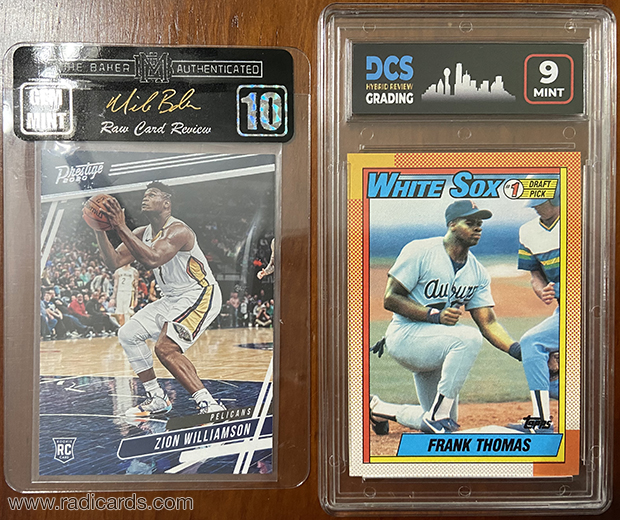 Pickup Highlights:
I don't typically showcase AU/GU cards in my list of key pickups but these cards come with specific conversational value. Here's the quick rundown:
The Dennis Eckersley AU was sitting in a showcase completely raw with other cards layered onto it so I had to rescue it.
The 1993 Donruss Elite Will Clark AU is the first one I've seen in the wild and I can live with the slightly faded autograph. The autograph fading is likely the result of it being on display in showcases in the early-mid 1990s, which is a common issue with this card.
The 2010 Topps Peek Performance Stephen Strasburg AU was a card I'd wanted for a while but didn't want to pay the asking price on eBay. It was acquired with the Will Clark.
The 2002 Leaf Certified Mirror Blacks are Unfulfilled Replacements (no 1/1 stamps).
It was a real honor to receive the Dr. Jim Beckett card from, and signed by, the man himself and inscribed directly to me. This is a significant memory.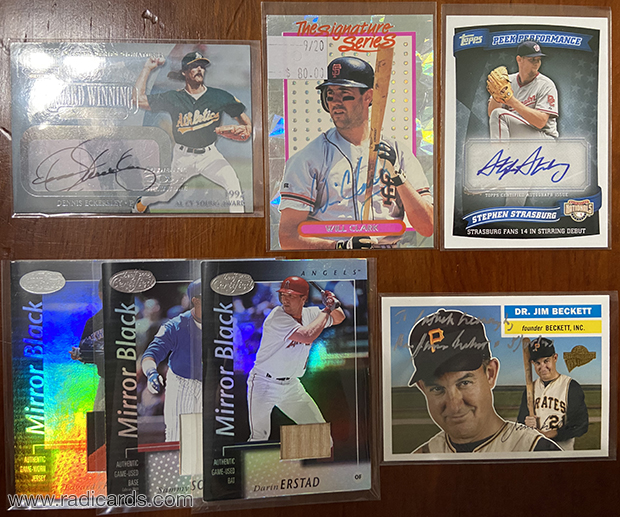 To see what's currently on eBay from 1993 Donruss Elite, click here.