Have you visited our store? Click here.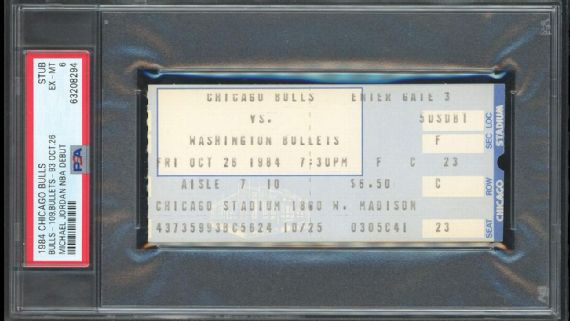 Many historical events are chronicled with tangibles. In this case, a ticket stub from Michael Jordan's NBA debut game. Artifacts from the first professional game Michael Jordan ever played are some of the most sought after in all of sports memorabilia. Michael Jordan's debut game happened on October 26, 1984 and marked the beginning of legendary career that would turn the star into a world icon and billionaire.
In an auction run through Huggins & Scott Auctions, this PSA 6 specimen, which is a Pop 2 with none higher, closed on 12/17/2021 and brought $264,000 (after 20% buyers premium) breaking the record for highest price paid for a sports ticket.
The game was held in the late Chicago Stadium. More than 13,000 attended the game to see Michael Jordan beat the Washington Bullets 109-93.
To see the current eBay auctions for Michael Jordan basketball cards, click here.