Have you visited our store? Click here.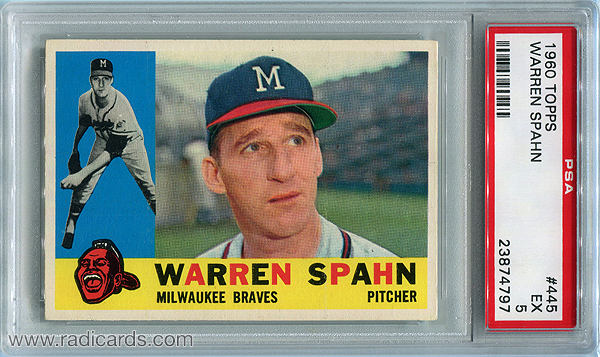 1960 Topps is a 572-card set that measures the standard 2.5″x3.5″ and is the first Topps set in this size to use a horizontal orientation but third in any size up to 1960 (1955 and 1956 sets both feature this orientation but were made in the larger pre-1957 dimensions). Cards 375-440 can be found with either gray, or the less common white backs but both versions appear to have the same value. Cards 507-572 (high numbers) contain a smaller print run than the rest of the cards in the set. Cards were released in 1-card penny packs, 6-card nickel packs (24/box), 10-cent cello packs (36/box), and 36-card rack packs ($0.29/ea.). Key RCs include Jim Kaat, Willie McCovey, and Carl Yastrzemski.
To see what's currently on eBay from 1960 Topps, click here.