Have you visited our store? Click here.
A recent sale of a Ryne Sandberg 1996 Circa Rave confirms my estimated valuation of this card. We'll get to this in a moment. First, here's a related personal story.
At the May 19-22, 2022 Dallas Card Show, I found an example of this Ryne Sandberg 1996 Circa Rave and purchased it for $8. Later that night, I was sitting on a comfortable chair with my pile of the day's pickups on the round table in front of me eagerly waiting to show my friend, Stephen, who was on his way down from his hotel room. Mmm… Raising Cane's Chicken Fingers.
I was pretty proud of my purchases but more specifically the 1996 Circa Rave Ryne Sandberg. I've always been a fan of Ryne Sandberg and remember filing his cards in binder pages as a kid. In fact, the first baseball card I remember acquiring all those years ago was one featuring Ryne Sandberg. I think that memory is a big part of why I appreciate his cards. Not to mention that he was a superstar ballplayer.
Back to that night at the Dallas Card Show. So my fiend, Stephen, arrives and I show him the pile and he proceeds to go through it. Then another friend comes by to say hi; we'll call him Mark. Beer in hand, I could tell Mark was a bit tipsy but it didn't matter to me. It's just great to see friends. Anyway, after Stephen finishes looking over the pile, Mark goes through it and picks out the Ryne Sandberg card while at the same time mentioning that a friend of his would love it since he's a big Cubs fan.
I've heard statements like this many times before and I'm always left thinking, is it my responsibility to satiate the needs of every fill-in-the-blank fan? No. If your friend is such a big Cubs fan, he shouldn't have any issue with doing the work of finding stuff on his own. While we're on the subject, who's likely to enjoy this card more – the collector with childhood memories of the player, or some guy who's a fan of the associated team and is likely to just file the card away to be forgotten just as fast as he gets it? I digress.
I listened but it didn't matter to me because the card wasn't for sale. Mark then proceeds to offer $100 for the card right there on the spot. Mind you, this card had only been in my possession for a matter of hours before I received this offer. I didn't even think about it before passing. So Mark then upped it to $200 and I passed again. At that point, I could tell Mark was upset but that wasn't my intention or my problem.
I was just a collector sitting there sharing my excitement for what I found at the show. That and I was equally excited by the 6pc Caniac I was about to consume. It turns out you get pretty hungry when you haven't eaten for 10 hours.
So anyway when I got home that night I did some research on the card and estimated that this 1996 Circa Rave Ryne Sandberg is worth about $450-500 in the current market. The next day I see Mark to inform him of this but he wasn't having it and basically told me to f&#k off! Thing is, long before and even after this, I still consider Mark a friend. I know friends don't treat each other this way but I can respect emotional exchanges; we all get upset sometimes. I just hope Mark isn't still mad at me.
Bottom line here is if it's something I collect, I collect it; I don't sell it. When I find something that fits perfectly into my collection, that's where it goes. No questions asked or necessary. But also, no hard feelings.
---
An example of the 1996 Circa Rave Ryne Sandberg sold at auction over the weekend. Here's how it performed. It turns out my value estimation was accurate.
Sold: August 21, 2022
# of Bids: 29
Final Price: $458.23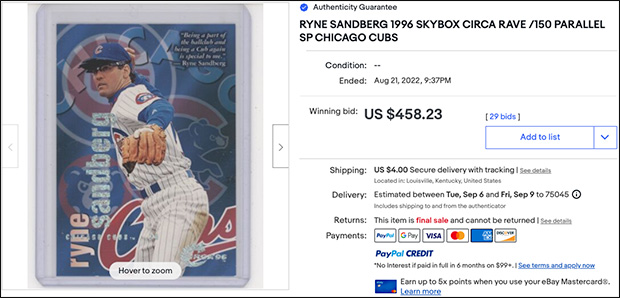 To view the current eBay auctions for 1996 Circa Rave parallels, click here.