Have you visited our store? Click here.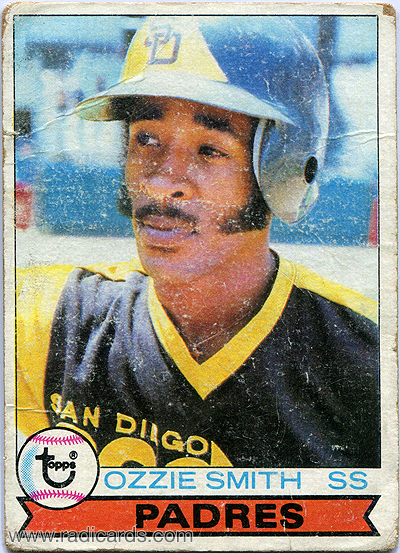 The 1979 Topps Ozzie Smith rookie card is one of my all-time favorite baseball cards. Over his 19-year professional career, he amassed an impressive list of accolades such as: 15x All-Star, 13x Gold Glove, 1x Silver Slugger, and was an NLCS MVP.((Ozzie Smith. www.baseball-reference.com)) His superstar abilities as a Shortstop would secure his nickname as The Wizard.
I really like this card. I enjoy the sideburns and general look on Ozzie's face. As a young collector, this card always felt too far out of reach. It's the key card in the 1979 Topps Baseball set and as such, it's the most valuable. This card is known for centering issues. It's one of the hobby's most notoriously off-centered cards. This example, while in terrible shape actually has relatively decent centering. It's certainly not worth being graded but the centering, 65-35-ish favored to the right isn't bad. This card is more often than not found with 90-10 (or worse) centering favored to the left. Centered copies are exceptionally rare and as such are highly desirable with high grade examples commanding significant hobby attention.
This was another $1 find at the 2012 National Sports Collectors Convention. In all honesty, I can't think of a more accurate price tag for this card. While it is, in fact, a genuine copy of Ozzie Smith's rookie card, it suffers from a variety of condition flaws, which include creases, rounded corners, dings and nicks, and significant surface wear. Perhaps these condition flaws happened long before Ozzie Smith solidified his legacy as one of the game's greatest Shortstops. Maybe the clear signs of lack of care occurred near when the 1979 Topps Baseball set was released. Maybe it was the case that someone like Ozzie's sideburns too and thought it would be a good idea to have this card in his or her back pocket so that they could have something to reference during barber visits. (If you caught that I added "her" in that sentence, good job!) I'll never know what this 1979 Topps Ozzie Smith rookie card went through before it reached my collection but it's fun to think about.
To see the current eBay auctions for the 1979 Topps Ozzie Smith, click here.