Have you visited our store? Click here.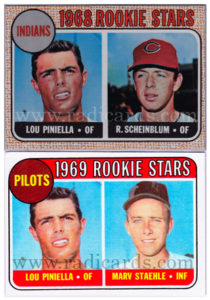 As you sift through your oldies, you'll notice that some players will be featured as rookies on cardboard from various years. A few notable mentions that have appeared on various rookie cards from different years include: Don Baylor, Dale Murphy, Bill Buckner and Lou Piniella. Amusing and confusing, these rookie cards can be quite misleading for the novice collector and surprising for the experienced counterpart. Until about a month ago, I was under the impression that Piniella's rookie card came out of the '68 Topps set. A few weeks back, I was rummaging through some vintage Topps and stumbled across a second rookie card featuring Piniella, this one from the '69 Topps set. Using the same picture for multiple years was common in vintage years: 50's – 70's. The pictures here look identical and present a clear example of such technique. This type of thing doesn't happen in today's market.
So there I was, presented with two separate Piniella rookie cards, one from '68, the other from '69. Okay fine, so the question was now, which one was his true rookie? My obvious reaction was to consider the '68 example as his true rookie and call it a day. No problem. It's the older of the two cards. It was common during this era to find two rookie cards from two different years. This being the case, I figured I had indeed had Lou's true rookie card here… about a week later, I threw that theory into the wind when I discovered the 1964 Topps card.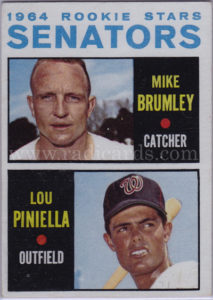 1964, 4 years earlier than his '68 example, which I was convinced was Piniella's first card. Now I'm up to three different cards featuring Lou Piniella as a rookie! So the question still remains, which one is his true rookie card? Through obvious observation of release dates, it's safe to say that this 1964 Topps card is in fact Piniella's true rookie card. According to Beckett, my guess is correct. Additionally, it's the only one listed and holds a $30 price point while the other two cards from '68 and '69 are worth around $6 each and fall under one of the many vague and subjective unlisted (fill in the blank) categories. My question now is: why the need to feature this guy on three different rookie cards from three different years? The only reason I can think of to account for such redundancies is as follows:
Piniella kept getting called down to the minors. During the '64 season, he was called up but only briefly and in just enough time to appear in a few photo shoots and one plate appearances within 4 games which managed to land him a spot in the '64 Topps set. Piniella didn't see the major again until '68 when he was called up a second time, this time playing in 6 games, 5 AB's and 1 run (RBI). Piniella didn't start playing the game to his full potential until '69 when he was in the regular rotation with the Kansas City Royals. Before '69, Piniella was shuffled around from the Baltimore Orioles to the Cleveland Indians.

So there you have it, 3 separate rookie cards from 3 different years.
1969 Topps #394
1968 Topps #16
1964 Topps #267 (official rookie card)
As often as I have seen guys from the 50's – 70's appear on multiple rookie cards, Piniella is the first to appear on more than 2. Way to go Sweet Lou!
Question of the Day:
Name a modern or vintage player who's rookie card was/is misleading and/or somewhat confusing?
To see the current eBay auctions for Lou Piniella baseball cards, click here.