Have you visited our store? Click here.
The 1998 Stadium Club
release featured a very peculiar and equally difficult to identify insert set called, Triumvirate
[try-um-vy-rait]. These cards were manufactured in three different types but none of them had any identifiable way to make sense of what was what. I'm here to fix the confusion for you.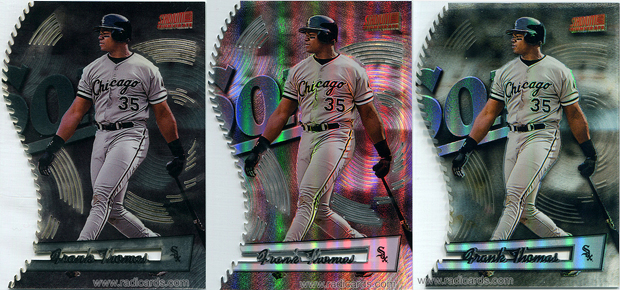 Interestingly enough, these cards were found only in retail packs, which makes them that much more difficult to pull and pull in good condition. Each player in the set is featured on two different designs.
Luminous: Inserted into retail packs at a rate of 1:48. These feature a solid flat chrome finish.
Luminescent: Inserted into retail packs at a rate of 1:192. These feature a solid refractor finish.
Illuminator: Inserted into retail packs at a rate of 1:384. These feature a translucent refractor finish. You can see through these and this is what distinguishes them from the other two.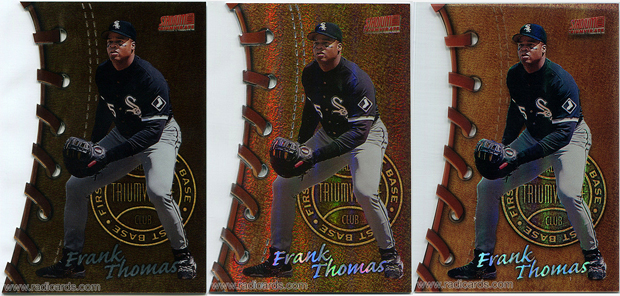 It took me many years to find both Illuminators. It figures though since it's the hardest one to find. I just love the die cut design on these cards. This set was so popular that one of the designs was reproduced in 2013 Topps Archives.
To see what's currently on eBay from 1998 Stadium Club Triumvirate, click here.
---
Set Information:
| Set | Total Cards | Odds |
| --- | --- | --- |
| Luminous | 54 | 1:48 R |
| Luminescent | 54 | 1:192 R |
| Illuminator | 54 | 1:384 R |
1998 Stadium Club Triumvirate
Checklist:
| Card # | Player(s) | Card # | Player(s) |
| --- | --- | --- | --- |
| T1A | Chipper Jones | T10A | Mike Piazza |
| T1B | Andruw Jones | T10B | Sandy Alomar |
| T1C | Kenny Lofton | T10C | Ivan Rodriguez |
| T2A | Derek Jeter | T11A | Mark McGwire |
| T2B | Bernie Williams | T11B | Tino Martinez |
| T2C | Tino Martinez | T11C | Frank Thomas |
| T3A | Jay Buhner | T12A | Roberto Alomar |
| T3B | Edgar Martinez | T12B | Chuck Knoblauch |
| T3C | Ken Griffey Jr. | T12C | Craig Biggio |
| T4A | Albert Belle | T13A | Cal Ripken Jr. |
| T4B | Robin Ventura | T13B | Chipper Jones |
| T4C | Frank Thomas | T13C | Ken Caminiti |
| T5A | Brady Anderson | T14A | Derek Jeter |
| T5B | Cal Ripken Jr. | T14B | Nomar Garciaparra |
| T5C | Rafael Palmeiro | T14C | Alex Rodriguez |
| T6A | Mike Piazza | T15A | Barry Bonds |
| T6B | Raul Mondesi | T15B | David Justice |
| T6C | Eric Karros | T15C | Albert Belle |
| T7A | Vinny Castilla | T16A | Bernie Williams |
| T7B | Andres Galarraga | T16B | Ken Griffey Jr. |
| T7C | Larry Walker | T16C | Ray Lankford |
| T8A | Jim Thome | T17A | Tim Salmon |
| T8B | Manny Ramirez | T17B | Larry Walker |
| T8C | David Justice | T17C | Tony Gwynn |
| T9A | Mike Mussina | T18A | Paul Molitor |
| T9B | Greg Maddux | T18B | Edgar Martinez |
| T9C | Randy Johnson | T18C | Juan Gonzalez |
1998 Stadium Club Triumvirate