Have you visited our store? Click here.
---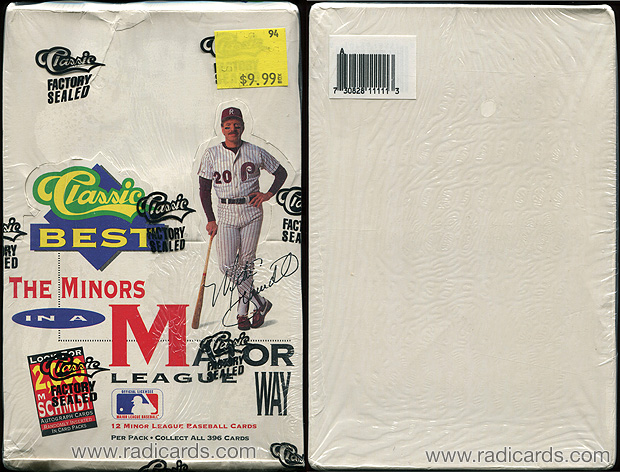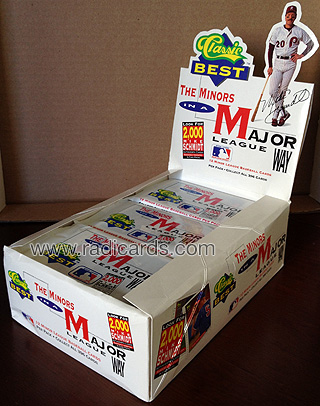 This was an interesting product to open. I don't remember seeing 1991 Classic Best Baseball
when it came out, but have many memories finding cards from this product while digging through stacks of cards at shows and shops. This product features a few players that became superstars in the big leagues i.e., Chipper Jones, Jim Thome, and Pedro Martinez. Other young guns include: Carlos Delgado, Brian Giles, Davy Lopez, Rusty Greer, Ivan Rodriguez, Jeff Kent, J.T. Snow, Garret Anderson, Royce Clayton, Ryan Klesko, Todd Van Poppel, Todd Jones, and Tim Salmon.
Given the age of this product, I partially expected that cards to be stuck together and the packs to present a challenge to open. That wasn't the case at all here. These packs were very easy to open and the cards were very easy to flip through. These cards feature little gloss, which likely contributed to the ease of navigability.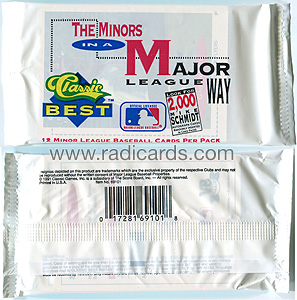 Breakdown:
A box of 1991 Classic Best Baseball
contains 36 packs, each containing 12 cards for a gross total yield of 432 cards. The set consists of 396 cards. The breakdown is as follows:
396/396 cards: % of set complete = 100%
Doubles: 37
One chase card can be pulled out of these boxes, and that's a card signed by Mike Schmidt. While the box states that only 2000 of these cards were produced, I have seen this card hand numbered to 2100. I'm uncertain as to the origin of the extra 100 cards. I would assume that this chase card, like any other, helped stimulate demand for this product when it first arrived on shelves in '91. This was a year when the so called, golden ticket? insert cards were just starting to gain momentum in the hobby.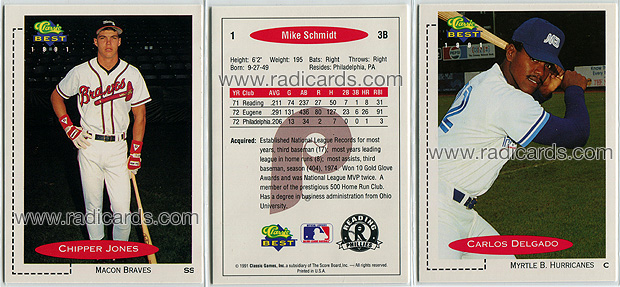 The base design is very simple. No flash, just quality shots of young players. The red oval name plate demands immediate attention. The photo's are clear and the Classic Best logo in the top left corner adds extra color. No need for bells and whistles here.
Availability: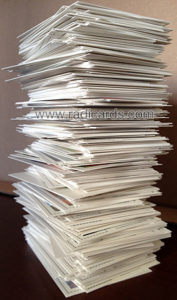 I would assume that this product was widely distributed in 1991. I would also go as far as to say it was mass produced. How mass produced it was in comparison to MLBPA licensed products released the same year, however, is uncertain. While I don't see these boxes as often as some others from 1991, when I do find them, they are very affordable. If I can recall correctly, I purchased mine for $4-5, which is a marginal expense.
Supply & Demand:
The buzz for this product has long since run its course. The days when shops ordered cases of this product are long gone. However, you can still track these boxes down with minimal effort. A simple eBay search will reveal several purchase opportunities. As I've said with any sealed box of cards, it's best to find these in person. This will help create a more attractive price-value ratio.
Conclusion:
If you want to easily acquire early cards of some star players, and likely Hall of Famers, with the addition of a chance to pull an autographed Mike Schmidt (HOF 1995) card, I recommend this product. I wouldn't spend more than $7 on this box. The cards were likely mass produced and hold very little value. I say this because I see cards of the star players in this set being sold for $1/ea. You shouldn't buy this product with any resale intention, but to enjoy purely for the sake of adding some cool minor league cards to your collection. While the return isn't monetary, it is experiential and as such should be enjoyed purely for nostalgia. Purchase a box of 1991 Classic Best Baseball
.
To see what's currently on eBay from 1991 Classic Best, click here.