Have you visited our store? Click here.
---
The March 2022 installment of the Dallas Card Show presented yet another excellent weekend. While I intentionally took a smaller budget this time, I did really well with how I spent it. The pieces discussed here were all found in bargain bins. Some of these items were first appearances, while others were in the, Holy heck?! This is in the bargain bin?! category.
I'm building an understanding of how to strategize bargain bin search order with this show. I've learned who sells what and where and how much of what I usually buy. If I typically spend a lot of time with one dealer, it means their inventory suits my collection well. As such, I should prioritize their booth first so it's not combed over before I get to it. This happened to me this time with one dealer because I reviewed his stuff late on Sunday but should've made it a point to see his stuff first thing on Thursday or Friday. I'll do this next time.
I didn't pick up any big pieces at this show. What I mean by this is that nothing I bought was showcase quality. It's all bargain bin but still very interesting stuff.
---
This and That:
This Pete Rose 1984 Expos Stuart was a first appearance for me. I've never seen anything from this set and didn't even know it existed until I came across this card. After some research, I discovered this is part of a 40-card, two-series set that was released in two blocks in 1984. The first 20 cards were distributed from mid-April to June. The second 20 cards were distributed from July to August. Any remaining cards from the first series were released to a few dealers for hobby distribution. Because of this, cards from series two are more difficult to find. The small release window is likely why I haven't seen them until now. Key players in the set include: Andre Dawson, Gary Carter, Pete Rose, and Tim Raines.
To see what's currently on eBay from 1984 Expos Stuart, click here.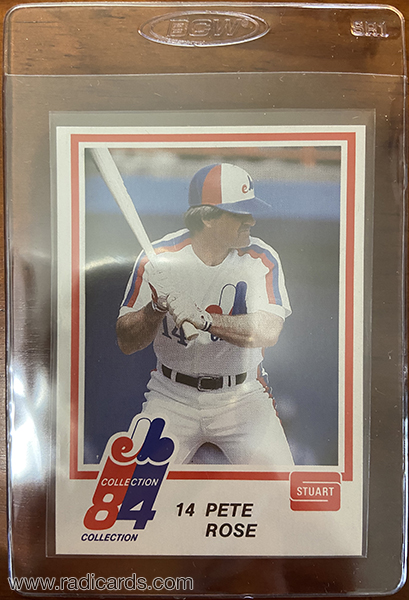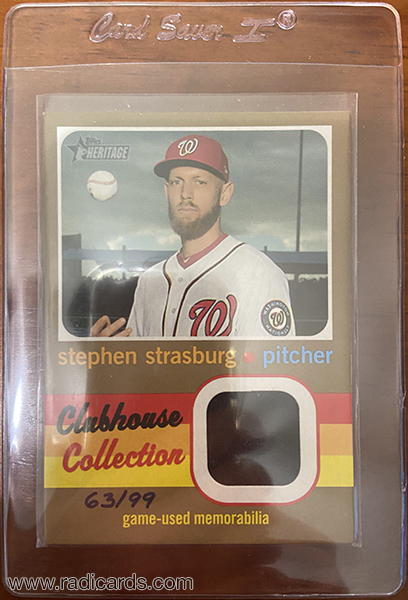 I found this Stephen Strasburg 2020 Topps Heritage Clubhouse Collection Relics Gold /99 in a 50%-off box. After the discount, it was just $6. I almost passed on it but the hand numbering got me thinking about its rarity. After some research, I discovered the odds of pulling these Gold parallels is 1:895 hobby packs, which is nuts considering the set consists of 128 cards. Even more interesting is the Golds only possess a 1.5x multiplier to their base card counterparts. You'd think collectors would care more about stuff like this. They don't.
To view the current eBay auctions for 2020 Topps Heritage Clubhouse Collection Relics Gold parallels, click here.
Junk Wax:
One dealer had a bunch of signed Juan Gonzalez RCs. I bought one for a friend and two for myself. The price was just too good. I grabbed this pair of 1990 Donruss error and correct versions. I've always wanted a signed example of the Reverse Negative (left) so when I saw these together, I had to grab them.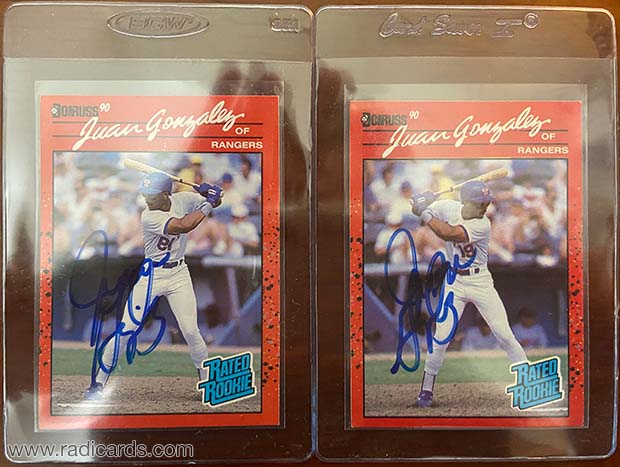 I can remember when I got my first copy of the Juan Gonzalez 1990 Donruss Reverse Negative. It was either 1990 or 1991. I bought it off a friend's older brother. I can remember being really excited because this was such a big card at the time and it still excites me to this day.
1990s Inserts & Other:
The following three cards were all found in different $1 bins. These are probably my best pickups from the value perspective alone.
I had to do a double take on the Star Rubies Extreme even though it depicts common players. I'll take those all day at $1.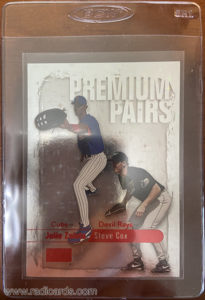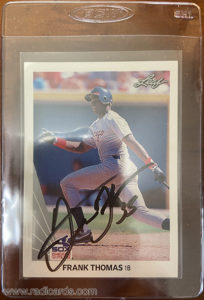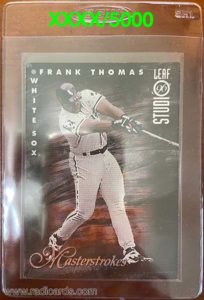 I was shocked the guy going through the box before me didn't grab that signed 1990 Leaf Frank Thomas. For a $1! Unreal.
That 1996 Studio Masterstrokes Executive Master Set Edition Frank Thomas was found right in front of a Mike Piazza of the same make. I bought both. It's exceedingly rare to find a Frank Thomas card I still need (that I actually want) and yet, here we are. Welcome to the family.
Basketball & Football:
About a year ago, Zion Williamson stuff was about as hot as any prospect could get and people were paying through the nose for pretty much anything depicting his likeness. While I understand why hype exists, a part of me feels like buying what everyone else is buying is somewhat foolish because it typically creates situations where buyers end up overpaying.
When I entered the convention hall, I decided to begin my search from the back of the room. Thursday nights are always somewhat thinned out since many dealers don't setup until Friday. The first dealer table I looked over was managed by some nice guys I'd met previously. When I overheard them mention a box of what they called, junk slabs, I knew I had to take a look. I was surprised to see this Zion Williamson 2019-20 Donruss Orange Laser in it because of last years' market behavior. The hype was absolutely nuts and now here we are, a foot injury later and his stuff is relocated to bargain bins. This card during its peak would've been hundreds in the right condition. I paid just $40.
To be completely clear here, this card was purchased with another that together the seller wanted $60. I countered at $50 and the seller wanted to flip a coin. I offered to provide a trivia question instead, they accepted so I asked them to name the 5 Los Angeles Dodgers players who were named Rookie of the Year in the 1990s. They couldn't so I got the pair for $50. Since the other card, which isn't included in this review, was valued at $10 I quote the Zion at $40. It might be a good time to buy.
To view the current eBay auctions for Zion Williamson basketball cards, click here.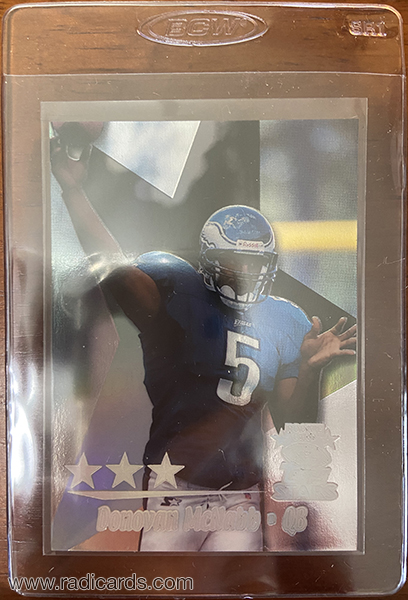 This Donovan McNabb 1999 Topps Stars Three Star Parallel /199 is his toughest parallel from the 6-card parallel run. These Three Star Parallels were inserted into packs at a rate of 1:79. I saw this card in a 50%-off bin and it was around $15 after the discount. I set the card aside with the small pile which included a 2001 Topps Stars Albert Pujols RC and the 2020 Topps Heritage Clubhouse Collection Relics Gold Stephen Strasburg shown above. I never see these boutique-level parallels from 1999 Topps Stars in any sport so I was glad to add this Donovan McNabb RC.
---
In Conclusion:
While I still grabbed my usual hoard, I kept an eye out for unique and otherwise strange or rare things. This is my typical strategy at all shows. Sometimes I come up short in some areas but this time, I think I did pretty well. The 1996 Studio Masterstrokes Executive Master Set Editions were biggest adds and I was really happy to find a signed example of the 1990 Leaf Frank Thomas for just $1. The rest were icing on the cake. Saturday Trade Nights have become quite popular. The following is a pic of the one from this show.