Have you visited our store? Click here.
Day 2 of the 2017 National Sports Collectors Convention was full of interesting experiences.
As soon as I enter the show-floor, I make my rounds to three specific dealers who indicated on the previous day that they would bring Frank Thomas card for me to see. I had a look and bought very little but appreciated their efforts and provided warm thanks.
One of the fellas has a table with a bunch of bargain and $1 boxes. I dug for about 40 minutes and pulled out a stack of 1980s classic rookie cards. For years, I've been specifically interested in adding HOF or near HOF rookie cards to the archive with doubles if at all possible. Among the stack were rookie cards of guys like: Ozzie Smith, Ken Griffey Jr., Cal Ripken Jr., Barry Bonds, Kirby Puckett, Andre Dawson, Jose Canseco, Tom Glavine, and Bruce Sutter. After I made my purchase, I continued serpentining the aisles. By the end of day 2, I had covered the entire show floor, but there's more to the story…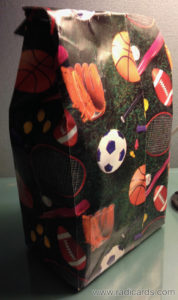 When I made my first purchase of the day, the seller gave me a lunch bag to put my cards into, which was helpful because it made carrying my cards much easier. So now I have one hand occupied and one hand free. This should work, no problem.
As I continued to shop, I made a purchase here and there for this amount or that but nothing too pricey. As I'd buy, I'd add the cards to this handy little lunch sack I carried around. One might wonder why I don't just put these cards in my backpack. For one, that would require me to stop. And B, my backpack already occupied a variety of somewhat bulky items i.e., freebies, mini-cam, tripod, binder, etc. and I had already run out of space in my backpack mini-pocket. So, that left me with one hand carrying the lunch sack and the other free.
I approach the end of one aisle and quickly become immersed into one of the best beater vintage boxes I'd ever seen. I set my lunch sack aside on the counter and dug through the boxes. After about 30 minutes, I pulled a short stack of cards. I took the stack to the dealer on the other side of the booth and we negotiated a fair price. I paid, thanked him and went about my day. I traveled half way down the aisle when I found myself at another booth with tons of boxes separated by team. I go straight for the White Sox section for the obvious reason, find 6 cards, (3 of which I'd been after for years), all for the cool price of just $0.50/ea. I pay the three dollars and attempt to add my new three cards to my lunch sack.
But where is my lunch sack!
I quickly panicked and immediately remembered I had left the lunch sack at the dealer's booth with the beater vintage cards. I do an immediate beeline and high tail it right back to that booth, but not without being caught and asked politely not to run. When I get there, I look in the location where I put my lunch sack and it wasn't there. Oh crap!
I ask the dealer if he'd seen my bag and he said nobody has been by his booth since I left. Mind you, I was just there not 10 minutes prior. Within seconds, he had his son on the phone, who thankfully indicated he had pulled my bag and put it behind the counter. Fewf!
I was so grateful for this; it made my day. If I hadn't acquired anything else the entire day, I'd consider it a huge win on the premise I got to keep what I had already purchased.
My heart-rate calms to normal.
I begin shopping again and in doing so, took pics of stuff I can't afford but love to look at. Here are some of those pieces:

The 1910 Tip Top Bread Honus Wagner card is a mythic monster. This is the first time I'd seen one in person. Same goes for the 1967 Kabaya Leaf Sadaharu Oh. These are just incredibly rare pieces. The 1967 Venezuela Topps Roger Maris and the 1985 O-Pee-Chee Kirby Puckett are pieces I just plain like.
Michael Jordan stuff never gets old. The two pieces shown here hail from the mythical late 1990s' insert variety. They are way out of my reach but are incredibly respectable gems. I took a pic of this Roger Staubach rookie card because PSA 9s are incredibly sparse and again, well out of reach. If you can't own it, a pic will often due just fine.
How about a pic related to the two terms, "Jordan" and "Rookie"? Okay, you talked me into it: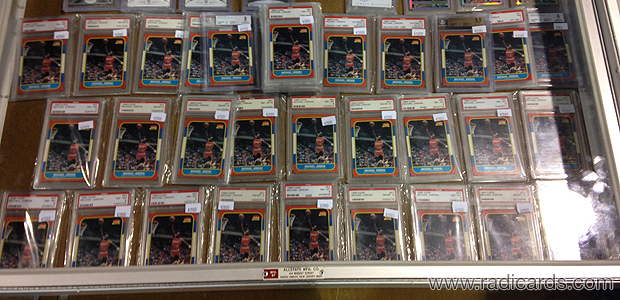 Do I finance a house or do I buy nearly 30 1986 Fleer Michael Jordan cards? Rhetorical, sure but one can ponder.
The day continued and ended with interactions with some friends from my California crew and some fellas whom I'd just met in person for the first time. Speaking of which, I wanna give a big thanks to the following people:
Brandon @ COMC for saying hello and expressing enthusiasm for the Radicards® brand. His interaction with me was both flattering and humbling. It's always excellent to meet my visitors in person. Thanks, man! 🙂
Josh Wulkan: Vice President, Huggins & Scott Auctions. Josh is a great guy and it was nice to finally meet him in person. If you haven't visited this auction house, I highly recommend it.
Jared Kavlie: President & Founder, Pristine Auction. Jared's team always has some excellent free schwag at his booth. This is the first time I'd met him and he's another stand up guy with a fast growing, and highly recommended auction house.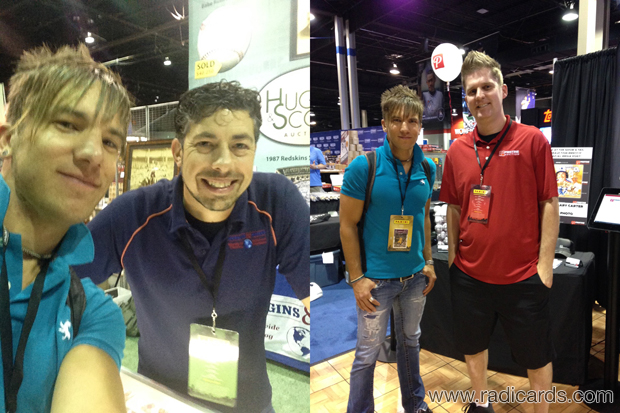 Despite the brief loss scare, Day 2 was a solid win.