Have you visited our store? Click here.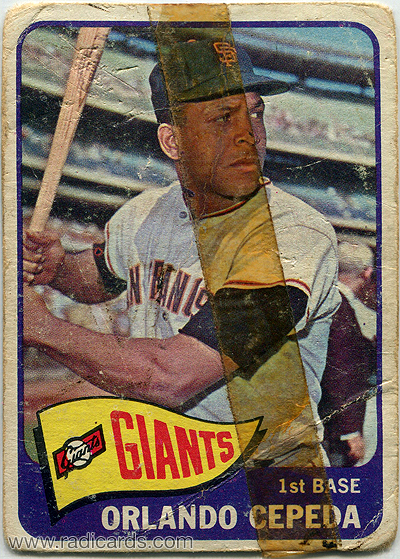 Why put tape on a card in quite that manner?
I got this 1965 Topps Orlando Cepeda at The Long Beach Expo. One dealer had a few showcases of high-end vintage baseball cards. Given the mammoth price points of some of this stuff and the meager budget I had to work with at the time, I asked if he had any beater copies of vintage cards. He indicated that he did and proceeded to hand me a stack of baseball cards that have each seen better days, much better days. This card was in that stack. If I can recall correctly, the dealer actually just gave me this 1965 Topps Orlando Cepeda card. Its condition would prevent it from garnering any sale worth noting. I was excited to add a card with such character.
When I got home from the convention, I put this card in a box and just left it there for a year or two until I got around to a mass organization project. The result ended with this card being penny sleeved and put into a box with my other vintage cards organized by year, brand, and card number. This is the ultimate method of storing my collection. With this method, I know where everything is located in my collection.
Anyway, I've picked up a variety of totally thrashed baseball cards over the years. This one is probably one of the worst to date. That tape placement shocks me every time I see this card. In a way, it's the most important part of what makes this 1965 Topps card so gnarly. Despite the major corner fold, the many dings and marks, the rolled corners, and the gnarly tape strip, the centering on this card is actually quite nice. A slight imperfection top to bottom but otherwise, I like it. I've always been more interested in centering than overall condition when it comes to vintage cards anyway.
What's one highlight you remember from Orlando Cepeda's baseball career?
To see what's currently on eBay from 1965 Topps, click here.