Have you visited our store? Click here.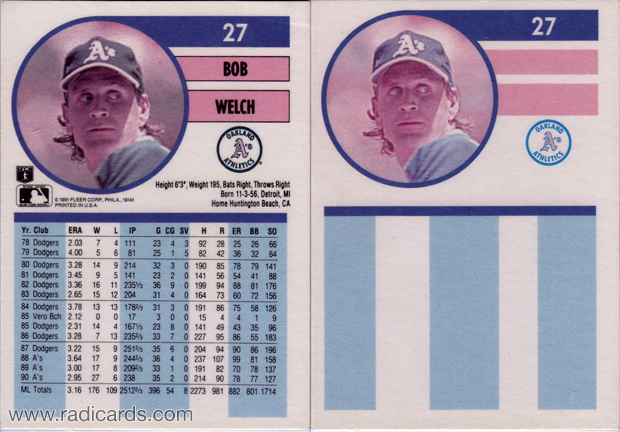 Okay, so the only card missing in this comparison is the standard 1991 Fleer Bob Welch
base card. There really is not a hint of market demand for this card and I'm not going to go out of my way to buy one and pay $2.99 to have it shipped. That means I'd have to pay $3.25ish for a common card from 1991 Fleer! I'd be the first. For that price, I may as well buy the set, or a case of sets! If I were to do that, I may as well insulate my home with '91 Fleer to keep me warm during the winter. Ha! I digress, bottom line is that the card is worth nothing to me so I'm not willing to pay a cent for it. That said, let's just compare these two specimens.
I actually discovered these via a friends collection and the guy just passed them onto me as a gift for helping him out with some odds and ends this summer. He noticed my excitement upon my discovery and figured I'd enjoy them perhaps slightly more than he. Whatever the case, they are safe in my PC and because I haven't witnessed anything like this from the yellow '91 Fleer set, I figured it would make for a fun entry.
Here we have two variations of the base card. The one on the left features the stats and the base print similar in nature to the standard card but resembles a fade in color. The version on the right in comparison features not a whole lot really, just the basic card stock minus the standard printing. This card also differs in that it's much lighter in color than that of the left variation. I'm thinking these cards ran through a series of color prints before finally seeing wax wrapping. I actually find this rather intriguing given the sheer amount of '91 Fleer that was vomited into the market during that year. Decades and literally 100's of thousands of encounters with '91 Fleer later, I've never seen one of these variations before. I'm not sure how common they are but according to various sources, quality control during that time wasn't as strict as it is today (i.e., see wrong backs on various late 80's Topps releases).
Question of the Day:
Name an error or variation card that you can remember pulling or hoping to pull in the early '90's.
To see what's currently on eBay from 1991 Fleer, click here.