Have you visited our store? Click here.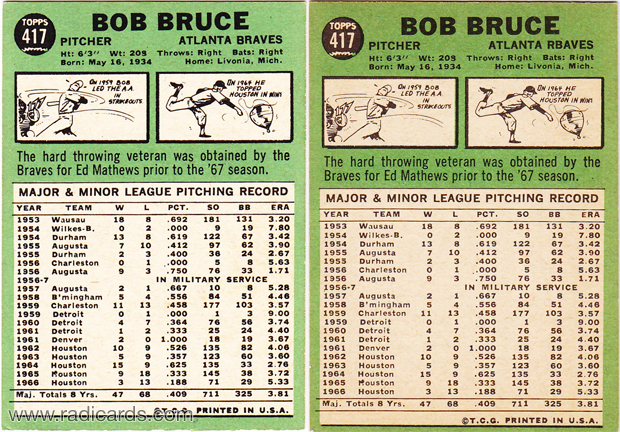 Vintage sets are littered with errors and variations. The 1967 Topps set is no exception. While there are quite a few UER's (uncorrected errors), this set hosts 10 error variations for which corrected variations exist. Here is the Bob Bruce 1967 Topps #417
. Depicted here are its two known variations. The error and corrected version are easy to miss if you don't know what for which to look.
To note the error, review the back of the card. The error is subtle but if you look closely at the player's team, you'll notice a spelling error. The correct version provides correct spelling of the word 'BRAVES,' while the error version misspells this word 'RBAVES. According to Beckett, the error is valued at $30 while the correct version is worth just $4. Keep an eye out for this card, it's easy to miss.
To see the current eBay auctions for the 1967 Topps Bob Bruce, click here.