Have you visited our store? Click here.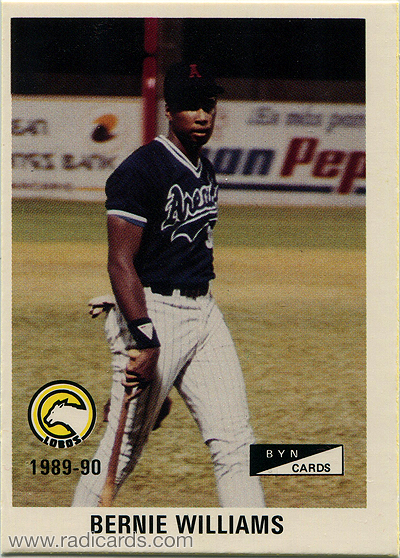 This is a 1989-90 BYN Puerto Rico Winter League Bernie Williams. It was first discovered and then purchased in a bargain box at the 2015 National Sports Collectors Convention. I was immediately drawn to this card when I first saw it. It's so incredibly obscure. The grainy photo, the strange logos, the way off-centered profile and just the old look to the card really grabs my attention. I've been in this hobby for decades and this is a card I hadn't seen previously. Just when I think I've seen it all, I stumble onto something else.
Bernie Williams is an All-Star and is one of those special players who spent their entire professional career playing for the same team. In Bernie's case, he spent his entire 16-year career with the New York Yankees. While his numbers don't say Hall of Fame, he was a talented hitter and collected over 2300 hits during his professional tenure.
This is one of those cards that I discovered serendipitously. Serendipity is a factor of the in-person buying experience that's a huge competitive advantage over online buying. The online buying advantage is that it gives the buyer total access to anything that's for sale. The only drawback to the online experience is that the buyer now has to think of what to search for leaving the element of serendipity on the table. Yea, it does happen but the occurrence is significantly reduced in the online buying atmosphere.
What's one memory that comes to mind when you think about the New York Yankees?
To view the current eBay auctions for Bernie Williams baseball cards, click here.