Have you visited our store? Click here.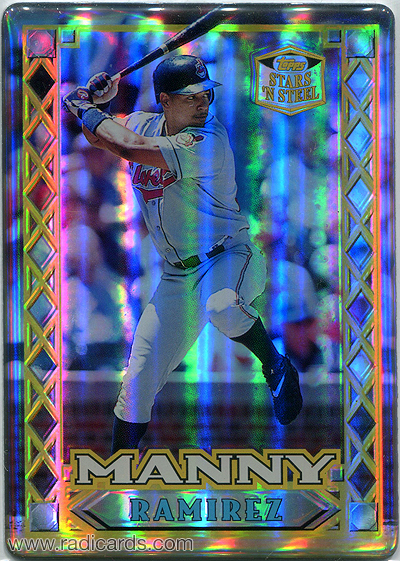 These cards are thick, heavy and incredibly beautiful. The technology use on 1999 Topps Stars 'N Steel Gold Domed Holographic hasn't really been revisited since. A similar technology was used years earlier in 1994 and 1995 Stadium Club Members Only Finest Bronze. Randomly inserted into packs of 1999 Topps Stars 'N Steel at a rate of 1:24, the Gold Domed Holographic set parallels the 44-card base set.
From an aesthetics standpoint, these Gold Domed Holographic parallels showcase a very standout appearance. The finish is a vibrant thrill of colorful delight that's augmented with manipulation against a light source. This is one of those sets that has me coming back again and again to revisit the color, feel, and design.
The in-person experience is a striking encounter. I came across this Manny Ramirez in an inserts binder at a now defunct card shop in the southwest, circa September 2012. It was in a 9-pocket page, which even today surprises me because of the weight and thickness of the card. It'd be a challenge to slide this card into a pocket, much less a penny sleeve, which is much easier to do. I don't remember exactly how much I paid for this card, I wanna say somewhere around $8-10. Either way, it was cheap and I had to add it. The glass-like coating on these cards prevents me from wanting to put my fingers on the surface due to the possibility of prints. If that happened, I'd have to manage a print removal task, which would be dubious at best no matter the subtle degree. Something else to note here is that the surface looks crystal clear but presents itself as slightly sticky. In my experience, this slight stickiness made getting these cards into penny sleeves somewhat of a small but manageable task. Keep this in mind and know that you'll need to use 130pt penny sleeves used for thicker relic cards.
This is an excellent parallel set that's gained some attention over the years. If you're in the market for something different, try 1999 Topps Stars 'N Steel Gold Domed Holographic. I'm confident you'll appreciate the design in at least some capacity.
Did you buy any packs of 1999 Topps Stars 'N Steel when it came out, and if so, do you remember who you pulled?
To view eBay auctions for 1999 Topps Stars 'N Steel Gold Domed Holographics, click here.
---
Set Information:
1999 Topps Stars 'N Steel is a 44-card set issued in 3-card tri-fold packs with an SRP of $9.99. Cards are printed using Serillustion technology and bonded to 25-gauge metal with a silver border.
| Set | Total Cards | Odds |
| --- | --- | --- |
| Base | 44 | 3:1 |
| Gold | 44 | 1:12 |
| Gold Domed Holographic | 44 | 1:24 |
1999 Topps Stars 'N Steel