Have you visited our store? Click here.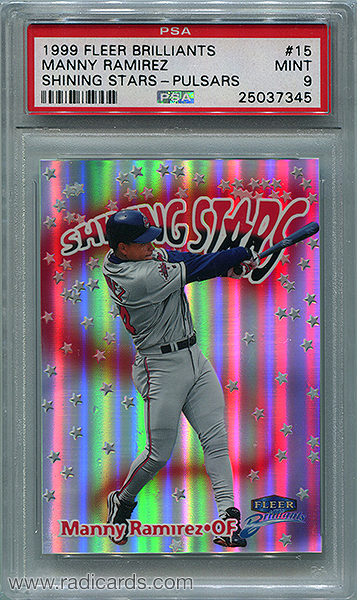 It wasn't until around 2010 that I discovered these 1999 Fleer Brilliants Shining Stars Pulsars
and at that time, I'd only ever seen them online. Obviously, I hadn't yet acquired my Frank Thomas and these cards just weren't readily available anywhere. Shining Stars were inserted into packs at a rate of 1:20. Since this is the scarce parallel, these Pulsars were inserted at a 20x lesser frequency of 1:400. We can conclude then that these Pulsars were printed in numbers 20x fewer than their base counterparts. Rare is the word that comes to mind here.
Scouring the secondary market recently was fruitful by way of serendipity. I was looking for something else when I came upon this Manny Ramirez and for the very modest price point, I figured I'd add it. These cards are absolutely stunning in person. They possess a holo-foil finish on both sides, which is something you just rarely see, even with elusive '90's inserts. I tend to be partial to designs like this one in that they offer imagination and simplicity. I don't need to see complex technology and gnarly die-cuts to enjoy baseball cards and this release does the trick for me completely. This set was released when the only players included in the roster where powerhouse superstars. I miss that, a lot. The 1999 Fleer Brilliants Shining Stars Pulsars
set captures the essence of a different time both in baseball and in baseball card collecting.
To view the current eBay auctions for 1999 Fleer Brilliants Shining Stars Pulsars, click here.
---
Set Information:
| Set | Total Cards | Odds |
| --- | --- | --- |
| Base | 15 | 1:20 |
| Pulsar | 15 | 1:400 |
1999 Fleer Brilliants Shining Stars
Checklist:
| Card # | Player(s) | Card # | Player(s) |
| --- | --- | --- | --- |
| 1 | Ken Griffey Jr. | 9 | Chipper Jones |
| 2 | Mark McGwire | 10 | Cal Ripken Jr. |
| 3 | Sammy Sosa | 11 | Frank Thomas |
| 4 | Derek Jeter | 12 | Greg Maddux |
| 5 | Nomar Garciaparra | 13 | Roger Clemens |
| 6 | Alex Rodriguez | 14 | Vladimir Guerrero |
| 7 | Mike Piazza | 15 | Manny Ramirez |
| 8 | Juan Gonzalez | | |
1999 Fleer Brilliants Shining Stars