Have you visited our store? Click here.
On this particular day, I encountered a pleasant surprise. Former Dodger, Maury Wills was doing a signing at Frank & Son Collectible Show. I bought an autograph ticket for a single baseball card. I then had about 30 minutes to find a Maury Wills card. I asked everyone there I knew and nobody had anything vintage. I bought some random commemorative modern cards but wasn't really satisfied. I ended up just upgrading my autograph ticket to include a baseball. It was really nice to meet Mr. Wills, he was a very pleasant guy. I'm glad to have the signed baseball in my collection.
During this visit to Frank's, I also picked up some BGS submissions, which are discussed at the end of the video.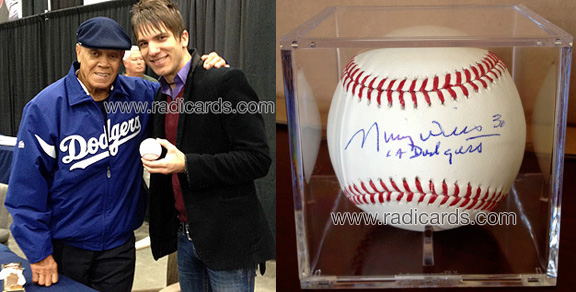 To view the current eBay auctions for Maury Wills baseball cards, click here.