Have you visited our store? Click here.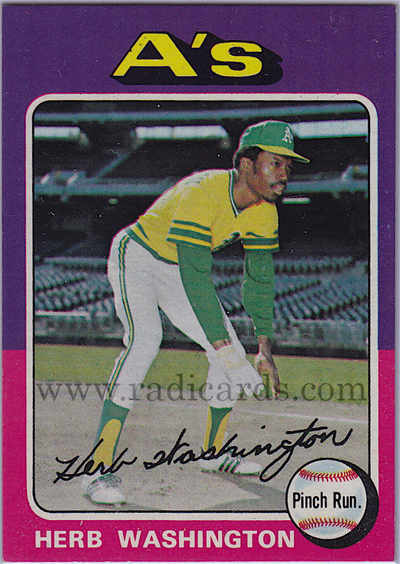 This is the Herb Washington 1975 Topps #407
. This time a discussion on the player's position. You may or may not have caught this one depending on how close you examine your cards. I only discovered this one in June 2009. Meet Herb Washington, the only player to hold the position of Pinch Runner in all of baseball, ever! Who knows if this position will ever be held again but until it does, this will continue to be the only card ever made to feature a player holding this position.
Prior to a short stint in MLB, Herb experienced a celebrated college career at Michigan State as a talented athlete.1 Although having no experience as a ball player, Herb went on to hold the position as Pinch Runner for the Oakland A's. Herb only played a total of 162 games spanned over the course of just 2 seasons with the A's before being released.
After his release from MLB just one month into the '75 season, Herb became quite the business professional. He owned and operated several McDonald's restaurants in the greater NY area.
Additionally, Herb held many Director and Board positions for various committees and industries over the years. Honorable mention includes holding a Director position of a large bank in NY and owning a professional hockey team. Herb eventually sold his McDonald's empire.
As noted from this summary, Herb was quite the celebrated athlete and business professional. Although his MLB career was brief, he will always be remembered as the one and only Pinch Runner in all of MLB. That is of course until there's another.
Question of the Day:
When was the last time you had McDonald's?
Me? June, 2001 – 6pc Chicken McNuggets
To see what's currently on eBay from 1975 Topps, click here.
References:
Herb Washington: World-Record Sprinter & Business Success. msuspartans.com ↩︎