Have you visited our store? Click here.

2018 was another memorable year for the Baseball Hall of Fame. This year, Chipper Jones, Vladimir Guerrero, Jim Thome, and Trevor Hoffman made the list. Each of these fellas came up in the 1990s so were subject to enduring the Steroid Era. Some might call this a curse while others might recall this as being one of the most exciting eras in baseball history. Yea, I know that's probably a somewhat controversial statement to make but think about how exciting it is to watch a guy hit a ball clear out of the stadium! That's very interesting stuff to watch and was likely only possible during the juice era. I can respect that. Something else I can respect is that this is the sort of thing that saved baseball from being committed to obscurity after The Strike tarnished the interest of many customers of this beloved American pastime. Let's peel back the layers of this election class and have a look at what made these guys enter legendary status.
---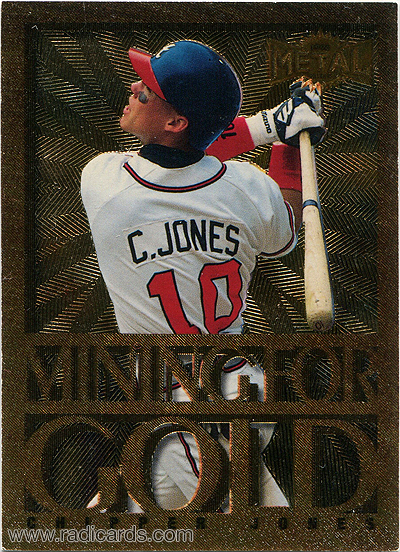 Chipper Jones
I can remember pulling Chipper Jones RCs out of packs of 1991 Score when it was first released. I didn't know anything about the player but his card was highlighted in the price guide so I put the card in my Stars box. Over the next 21 years, he'd manage to accumulate some very impressive statistics. While he was found in products as early as 1991, his official MLB career didn't begin until 1993 and lasted until 2012 for a total of 19 professional years. Although, he didn't play in 1994 due to an injury. In all that time, he achieved the following stats: 1x MVP (1999), 8x All-Star, 2x Silver Slugger, Batting Title in 2008 (.364 BA), .303 Career BA, and he was part of the talented 1995 World Series team.1 Additionally, he was one of the rare guys who stayed with the same team all throughout his career. This stuff is gnarly and makes Chipper completely deserving of the Hall of Fame.
Hobby notes: Chipper Jones was showcased in sets in some way featuring, or associated with, the Rookie theme up into 1996. I always thought that was ridiculous. He's in a variety of mainstream products in 1991, all examples in which qualify as rookie cards, and his official Rookie Year was 1993. I've always thought putting a guy in Rookie themed sets 3 years after his Rookie Year and 5 years after the release of his official Rookie Card was really, well… dead horse status.
To view the current eBay auctions for Chipper Jones baseball cards, click here.
---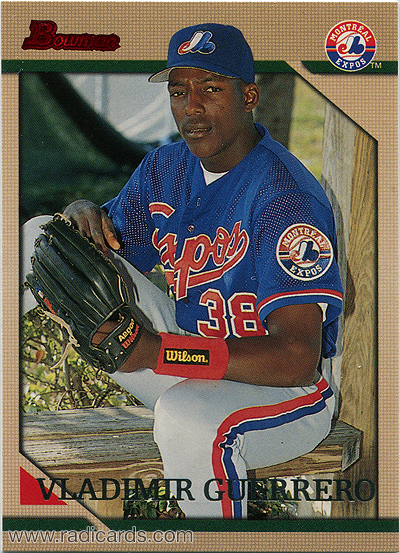 Vladimir Guerrero
My first Vladimir Guerrero card came out of pack of 1996 Bowman. Upon review of his cards, I quickly realized the card to have was his elusive 1995 Bowman's Best Refractor, which at the time and for many years following would seem too far out of reach to even consider. It would remain a dream. From that point forward, I'd file his cards in my Star binder. Fast forward to 2010 and I'd circle back to Vladimir Guerrero's cards and realize he played for the Anaheim Angels for a block of years in the 2000s. I was living in North Orange County at the time and I began paying more attention to his career even though he was just one year away from hanging it up. In his career, which spanned 16 years (1996-2011), he accomplished the following: 1x MVP (2004), 9x All-Star, 8x Silver Slugger, and a .318 Career BA.2 That's really solid stuff for a guy whose career I followed in bookend style.
To view the current eBay auctions for Vladimir Guerrero baseball cards, click here.
---
Jim Thome
This is another fella that didn't get nearly the amount of hobby love he should have. He was the power hitter that many people didn't collect but everyone respected. In all my years, Jim Thome's been brought up in conversations around power hitters in what's appeared to be a minority of instances. I've always liked him but never really got into collecting him. As the years progressed and Thome hit 400, then 500, then 600+ home runs, I knew it was only a matter of time before he got the recognition he deserved. When I heard the news he made the 2018 Hall of Fame election class, it was more of the realization of an expectation than it was a surprise. Thome's in that rare echelon of guys whose career home runs are in the 600s. Other accolades collected during his 22 year tenure (1991-2012) include the following: 5x All-Star, 1x Silver Slugger, and 612 home runs.3
To view the current eBay auctions for Jim Thome baseball cards, click here.
---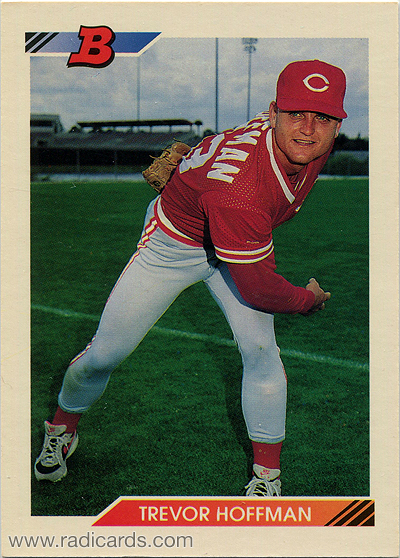 Trevor Hoffman
I didn't follow Trevor Hoffman much in the hobby. I knew he was good but I didn't really read into how good, at least not until 2018. It turns out that during his 18 year career (1993-2010), he did pretty well for himself. Converted from a hitter to a pitcher with the Cincinnati Reds due to his speedy pitches (95mph), he made a name for himself as one of baseball's most dominant in Saves. With the exception of the 2003 campaign, Hoffman collected 30 or more Saves per year from 1995 to 2009 with a league lead of 53 in 1998. Additionally impressive are some of his other achievements: 7x All-Star, 2x Rolaids Relief, and Career ERA of 2.87.4 For such a lengthy career, that's mythic talent status. With numbers like that, I'm surprised I never really paid attention to this guy. He was incredibly effective.
To view the current eBay auctions for Trevor Hoffman baseball cards, click here.
---
Have something to say about the 2018 Baseball Hall of Fame Election Class? Post it in the comments area.
References:
Chipper Jones. www.baseball-reference.com ↩︎
Vladimir Guerrero. www.baseball-reference.com ↩︎
Jim Thome. www.baseball-reference.com ↩︎
Trevor Hoffman. www.baseball-reference.com ↩︎