Have you visited our store? Click here.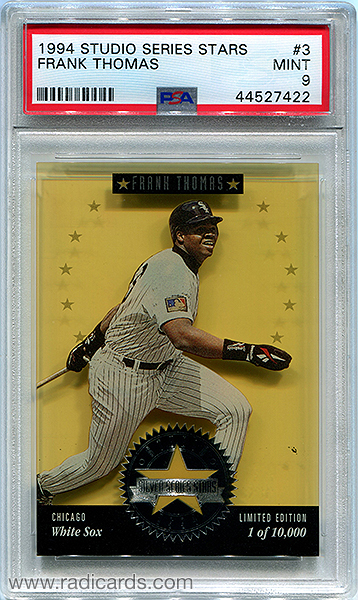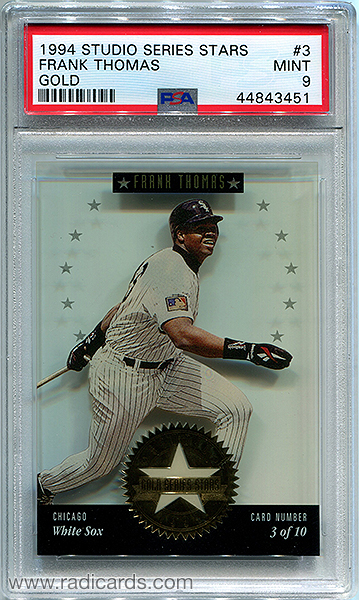 Another 1990s classic. 1994 Studio redefined parallel chase cards with its Series Stars
insert set. I can remember buying packs of 1994 Studio when it first came out hoping, wishing to pull a Series Stars card but never did. The value for these guys were through the roof when they hit the market 16 years ago. Their worth has since bottomed out in recent years due to the development of eBay and other online shopping outlets. The upside – they are routinely available online almost every day of the week. The downside – collecting romance is significantly compromised due to availability. No matter, these are beautiful cards.
This 10-card insert set is printed on clear plastic instead of traditional cardboard. The cut and dry simple design reminds me of how the hobby once was a memorabilia fad-free market. Each of the two variations are stamped with foil to signify which version they are: Silver or Gold. Additionally, these cards, although look somewhat identical differ in that the Silver parallel hosts the card number on the back while the Gold features the number on the front. The Silver is serial numbered to 10,000 and the Gold to 5,000. These are still considered rare by 1990s standards and insertion ratio comparisons. If you haven't seen these guys in a while, do yourself and your collection a favor and grab one up. They are gorgeous and classic. Classic's may be overshadowed by new trends and hobby fads but they never die.
I lived in Fairfax VA for one year back in 1994 and my mom used to take me to a baseball card shop that was located on the second floor of an indoor mall in the downtown area. If I can recall correctly, the shop was called Bob's Sportscards. I usually had a few bucks worth of allowance money saved up and as usual, I would spend my savings on baseball cards. As I walked into the store and onto the bright green carpet, I remember heading straight for the glass display cases on the left just past the register. It wasn't a very big place but it was enough for me to get excited. As I looked around, I stared at the singles and new packs. I asked the man for 5 packs of 1994 Fleer, as I paid and walked out of the store to wait for mom, I sat on a nearby indoor mall bench and opened my packs. I pulled a '94 Fleer Provision Juan Gonzalez. I thought it was a great pull. With slapstick animations of the days hot shots and a whimsical creative appeal, Fleer's Provision's are unique and entertaining to collect. That card was a cool hit for me, one which I still have to this day. I digress.
As I finished opening my cards, I noticed that I still had some time and money so I went back into the store and bought a few packs of 1994 Studio. As I walked out of the store, I noticed mom and we left the mall. I opened the packs in the car on the way home. It was a super hot summer day so I didn't want to handle my cards too much in the car but I just had to see if I was lucky enough to pull a Series Stars card. The Series Stars set was somewhat mythical to me at the time as I had only read about them but never seen them. As I got home, I sorted through my packs, no Series Stars but still hopeful. Over the next couple of months, I continued to buy packs of 1994 Studio in search of the mysterious Series Stars. Still… no luck.
Many years later, with the development of eBay, I've been able to secure a few examples from this legendary release from 1994 Studio. Depicted here are examples of each of the available parallels from this set. The Silver and more scarce Gold parallel. They are gorgeous but tough to obtain if hoping to pull one from packs. The breakdown is as follows:
Statistics:
1994 Studio Box = $12-$15
Silver Studio Stars #/10,000: 1:60 pks or 1 in every 1.7 (2) boxes. Cost = $24-$30. Player = $240-$300
Gold Studio Stars #/5,000: 1:120 pks or 1 in every 3.3 (4) boxes. Cost = $48-$60. Player = $480-$600
If you happen upon a box of 1994 Studio, grab it up. It's a fun break and the base set is beautiful with full bleed photos of players poised in uniform in the locker room. This release is overlooked by today's standards and as with many products from the 1990s, it's way past its prime and in somewhat low demand. The upside – it's affordable and for those of us who collected in the 1990s, nostalgic. Keep your eyes out for this stuff, it's quality and an instant classic!
Question of the Day:
Aroldis Chapman just broke the record for fastest pitch at 105 mph. Do we take this as a sign to invest or a sign to wait until he's recovered from his first inevitable Tommy John surgery? Would love to hear your thoughts.
To see what's currently on eBay from 1994 Studio Series Stars, click here.
---
Set Information:
| Set | Total Cards | Print Run(s) | Odds |
| --- | --- | --- | --- |
| Silver | 10 | 10,000 | 1:60 |
| Gold | 10 | 5,000 | 1:120 |
1994 Studio Series Stars
Checklist:
| Card # | Player(s) | Card # | Player(s) |
| --- | --- | --- | --- |
| 1 | Tony Gwynn | 6 | Mike Piazza |
| 2 | Barry Bonds | 7 | Cal Ripken Jr. |
| 3 | Frank Thomas | 8 | Greg Maddux |
| 4 | Ken Griffey Jr. | 9 | Juan Gonzalez |
| 5 | Joe Carter | 10 | Don Mattingly |
1994 Studio Series Stars