Have you visited our store? Click here.
---

The Dallas Card Show has gotten quite a bit bigger since I first started attending it in late 2020. Apparently, this one had record attendance. While driving to the venue each day, I listened to local sports talk radio and the speakers were broadcasting from the show. It's really quite something and I'm proud to be a part of it.
The Starlight Room has become known for its Saturday night trade events that go until about 2am, which is likely the cause of severe grogginess for Sunday attendees. It appears many appreciate this particular service, however, as it gives vendors and attendees a chance to meet in a more causal atmosphere. I usually attend for about 30 minutes before calling it a night. This is enough time for me to say hi to familiar faces and take pics for the gallery. The first trade night I attended back in 2020 was hosted in one of the smaller breakout rooms and attendees stayed until like 7am only to be back on the show floor at 9am! Impressive stamina.
---
Vintage:
Oscar Gamble. I've talked about this guy a few times before. His hair and facial expressions are what get me every time. I've bought from the seller of this card on several occasions so we've built up enough rapport to joke around a bit. I playfully asked about this Oscar Gamble 1979 Topps BVG 7 knowing full well it was a sunk cost but figured it was acquired in a bulk deal. That said, my $1 offer for this specimen was accepted. While this isn't a museum piece, it's certainly a fine talking point and it's a Pop 1 (not that it matters).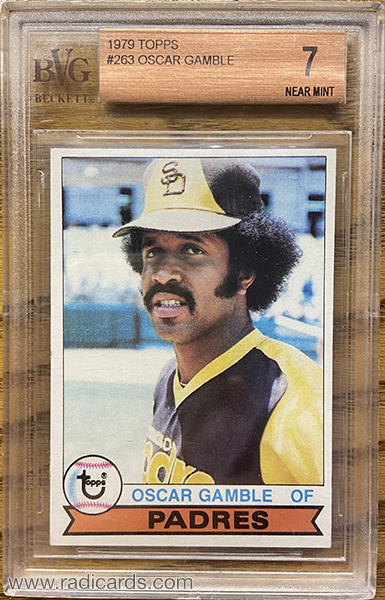 To see what's currently on eBay from 1979 Topps, click here.
Rookie Cards:
The Larry Walker 1990 Topps Tiffany and the Alex Rodriguez 1994 SP PSA 8 were purchased together as a pair for $20. Given the random nature of the grading company on the Larry Walker, I consider it a raw card but have no intention of freeing it from the slab. The sticker on this card was $5, which was very fair. The Alex Rodriguez sticker was $20, which is an excellent price for an 8 and it's a card I've wanted for a while in this grade so I was happy to add it. This is my first example of the non-DC 1994 SP Alex Rodriguez.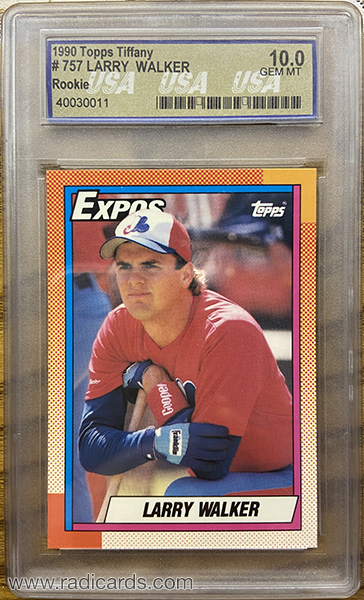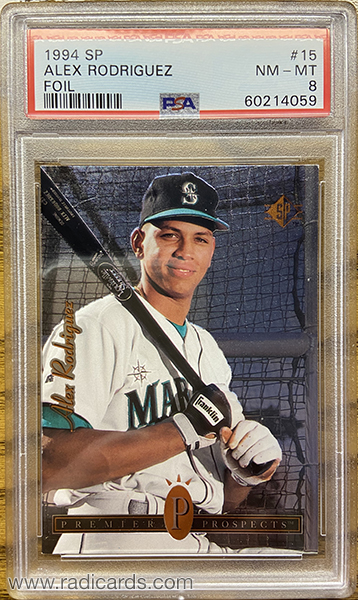 To see the current eBay auctions for the 1994 SP Alex Rodriguez, click here.
1990s Inserts & Other:
I slid into this category somewhat softly at this show but I'm still happy with these two highlights, which are very small buys. The Ivan Rodriguez 1997 Donruss Diamond Kings Canvas was found in a $1 bin. The Canvas variety make up the first 500 cards in the print run of 10,000. This was a fine addition.
The Ryan Klesko 1997 Finest Refractor was acquired for $3 talked down from $5. In fact, I actually saw this card on Thursday but didn't buy it until Sunday as it was one of those cards I'd thought about after I passed on it a few times over the weekend. I was somewhat surprised it was still available. Anyway, I figured I'd grab it since appearances of Refractors of the 1997 Finest Gold subset cards are rare. That and I've always liked Ryan Klesko.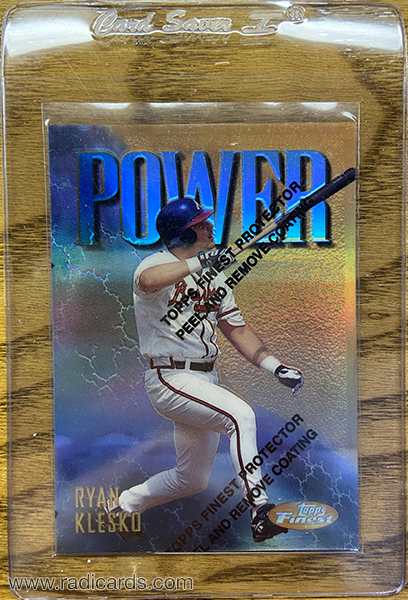 To see what's currently on eBay from 1997 Finest, click here.
Frank Thomas:
I've been after this card for many years. So here's the deal: This card is a buyback issued by Upper Deck in 1992. The card was initially contained in a 2-card Lucite screw-down case with the other card being a non-AU version of the same card. The case was then wrapped in Upper Deck paper and sealed in an Upper Deck box with a slightly larger dimension. In summary, you end up with a bunch of extra stuff you have to store and I didn't want any of it. I just wanted this single signed card. However, all the listings I'd seen for this card over the years came with all the extra stuff and a high price to accommodate both the content and the shipping. I waited patiently but never saw an auction for just the signed card. When I saw this card as a standalone at the show, I was shocked and after some negotiation, I bought it. I can finally check it off the list.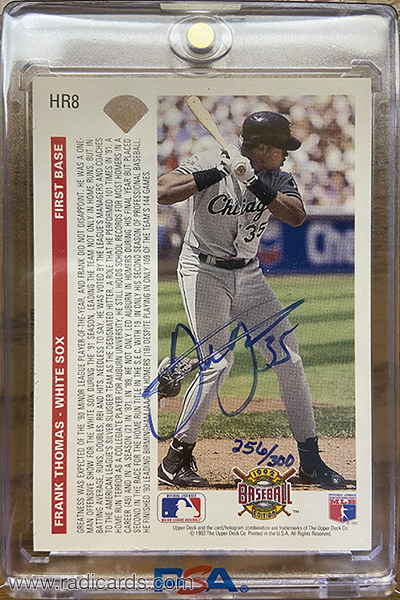 To view the current eBay auctions for Frank Thomas baseball cards, click here.
Football:
I've talked about the 1988 Florida Gators Emmitt Smith card before. There are two versions of this card: without the Burger King logo (common), and with the Burger King logo (rare). Up to this point, the only examples I'd seen at shows were the common variety. Since I'd already acquired the common variety, I wanted to add an example of the rare variety and this PSA 8 was the perfect specimen and the price was just right.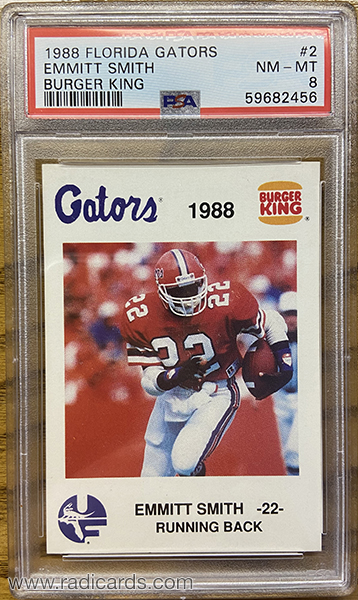 To see the current eBay auctions for the 1988 Florida Gators Emmitt Smith, click here.
---
In Conclusion:
The 2022 Dallas Card Show calendar is shaping up quite nicely. I just love this show. There's so much to look at and I always find interesting pieces. I'm excited to finally add the 1994 SP Alex Rodriguez PSA 8, the 1988 Gators Emmitt Smith with the Burger King logo, and the 1992 Upper Deck Home Run Hereos Frank Thomas AU. Those three additions made the weekend for me. One of the best things about these shows is the people. I meet so many interesting people. Everyone has stories to share and I get to learn so much just by talking with them. This show exists because of the great people who attend it.
---
Image Gallery:
I took lots of pics at this show. Some of which are of cards seen at previous shows but most of these are new finds. Since I attend so many shows, some overlap is expected but I do my best to feature new content each time. Given the volume, pics of Superfractor/Gold Vinyl cards are blocked together at the end of the gallery. I hope you enjoy scrolling through the gallery; it took a long time to create.